I was in a speech therapist's room this week and she had a foam craft pumpkin with foam jack-o-lantern face parts stuck on using velcro.  This was cute, and I was just going to show pictures of her pumpkin, and then I found some foam face parts at Michaels.  I pinned those parts on, but wasn't thrilled with them all, so I made some of my own and then laminated them.
I made them from my magnetic Mr. Potato Head activity and some other face parts that I have been working on.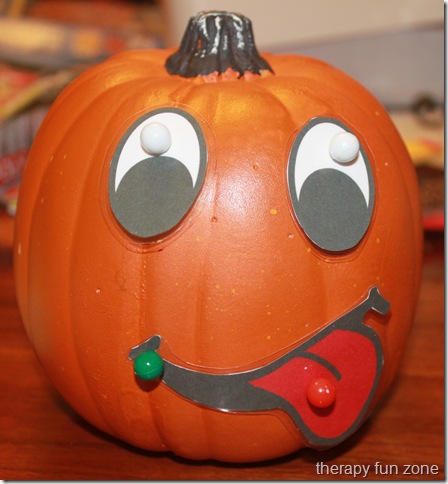 I used pins with balls on them, but any type of pin could be used depending on how challenging you want it to be.
craft pumpkin
face parts (paper or foam)
pins
Skills:
fine motor
visual perceptual
**** I often will link to things on Amazon. These are usually affiliate links that will pay me a couple of dollars if you happen to buy something while there. Any money made through the Amazon links goes back into this site and helps us keep it going. Thank You.