There is a new item in the store from Your Therapy Source.  It is called Finish the Holiday Pictures – December Edition, and it is an activity to work on visual perceptual skills and copying pictures, with a December theme.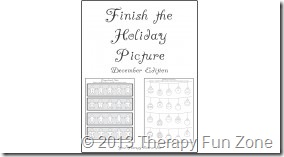 It includes 20 pictures of patterns to copy with a December holiday theme.  There are 10 easy pictures and 10 more difficult pictures to copy.
Materials:
Skills:
handwriting and drawing practice
visual focus
attention to detail
visual motor skills
visual sequencing
form constancy
Looking to find printable activities? You can find them in the shop
**** I often will link to things on Amazon. These are usually affiliate links that will pay me a couple of dollars if you happen to buy something while there. Any money made through the Amazon links goes back into this site and helps us keep it going. Thank You.