I love all of the recycling activities that the Recycling OT does, but I am not as good at saving items to recycle.  I used an empty tennis ball can, and put colored duct tape stripes on it in the colors of the items that I wanted to attach to it.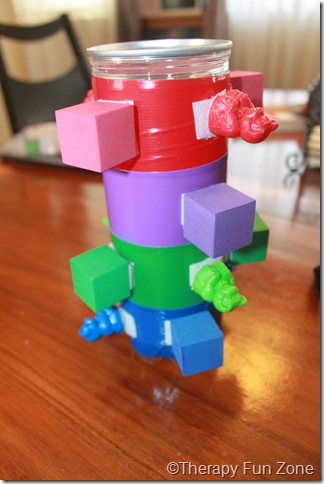 I then put velcro on foam cubes and counting bears, with matching velcro on the can.  You can use any small item to attach to the can, and can choose different sizes of objects to encourage different grasp patterns.   It would be great to use different shapes as well to sort by color or shape.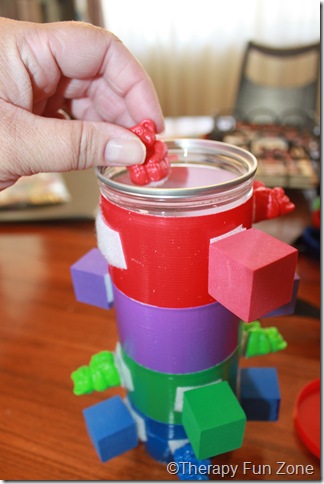 You can work on different skills when putting the items on, and pulling them off to put back inside the can, and it requires the use of both hands to get the blocks off of the can.
Materials:
Skills:
bimanual
fine motor skills
visual motor
Looking to find printable activities? You can find them in the community shop



**** I often will link to things on Amazon. These are usually affiliate links that will pay me a couple of dollars if you happen to buy something while there. Any money made through the Amazon links goes back into this site and helps us keep it going. Thank You.
The following two tabs change content below.
Tonya is a pediatric Occupational Therapist, and loves creating things to work on skills and solve problems.