I just read a blog post by a woman who has athetoid cerebral palsy. She tested an Ipad and bought one once she confirmed that she would be able to type on it, even with her athetoid movements. It is inspiring that this new device is making her more independent without being different. It is a device that many typical people carry around with them. Read the full blog post here.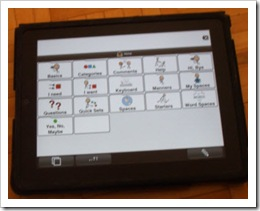 A quote from her "Then, I did something I had never done before: I went into one of the many Starbucks at O'Hare and ordered my first mocha frappuccino by myself. No misunderstanding or hand gesturing involved. It was so cool, like another door had just opened for me!"
Looking to find printable activities? You can find them in the community shop

**** I often will link to things on Amazon. These are usually affiliate links that will pay me a couple of dollars if you happen to buy something while there. Any money made through the Amazon links goes back into this site and helps us keep it going. Thank You.
The following two tabs change content below.
Tonya is a pediatric Occupational Therapist, and loves creating things to work on skills and solve problems.