An Activity/Game Challenge Using Crazy Cubes
I am proposing a challenge to all of you creative therapists and parents.  I found these funky little toys called crazy cubes while perusing the toy aisle at Target.  If you have kids you may have seen the commercials.  There is a little ball inserted in the top of the cube, and when you push on the feet at the bottom, the ball is launched out of the cube.  It is a great bimanual activity, and has a lot of potential for some great fun and work.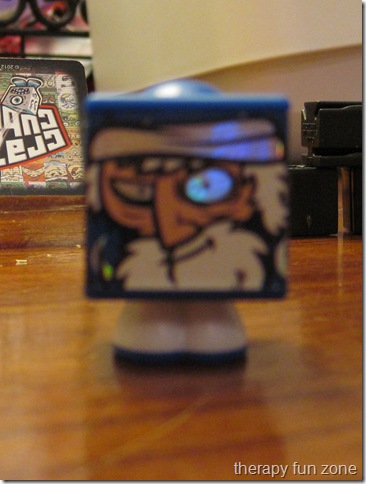 My Challenge to you is to come up with creative, fun, therapeutic, and interesting games to play with these crazy cubes.
I will give you a couple of weeks to go get some cubes and play with them and come up with games that are good for therapy.  You don't actually have to get cubes, you could just come up with games based on what the cubes do.  Post your game ideas in the comments, or email them to me at tonya(at)therapyfunzone.com, and I will compile them all, take pictures of the games being played, and have a post of everybody's games. Here are the Crazy Cubes
on Amazon, but they are not this expensive at Target.
Sound like fun? 
Ok, ready.
GO!

The following two tabs change content below.
Tonya is a pediatric Occupational Therapist, and loves creating things to work on skills and solve problems.
Latest posts by Therapy Fun Zone (see all)