Crack the Code Visual and Writing
When you have kids that need a higher level of challenge for visual scanning, visual perception, and writing, it can be hard to find activities that are difficult enough for them to do and that give enough of a challenge. I want to work on visual scanning on the board to search and find the right thing to copy and then write it down. So to work on these skills, I made a shape code that fits each alphabet letter so that they can scan the shapes and match them to the alphabet.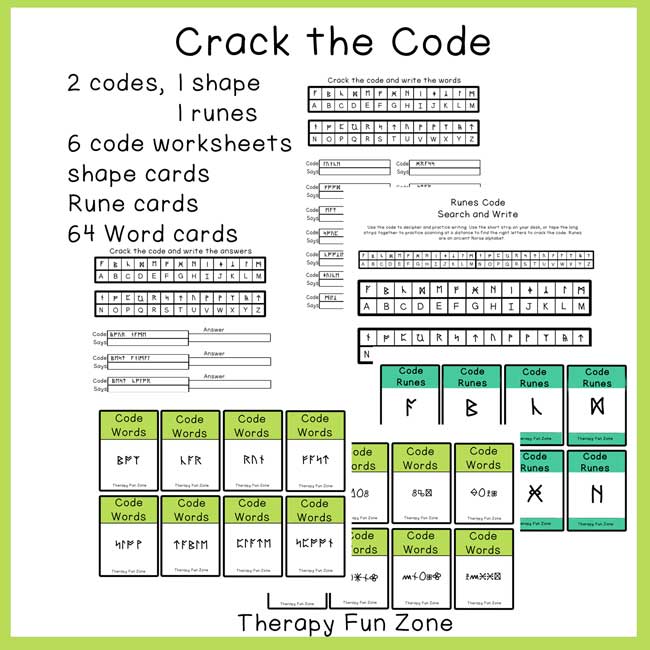 There is a strip of letters with the matching code that I can put up on the board. I also made some individual cards with the shapes on them, so the kids are given a card and they have to search the code up in front of them in order to find out what letter they need to write. There are also cards with words on them written in code to make it a little more difficult. The kids can then search the code and figure out what word they need to write on their paper.
For the older kids that need an even harder challenge, I have worksheets with a question or statement on them written in the code. The kids have to translate the statement and then write the answer down on their paper.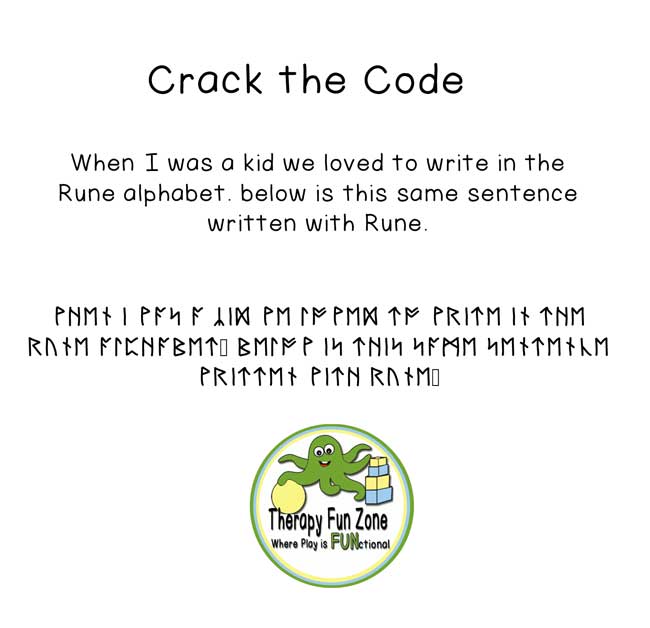 When working on my shape code, I was reminiscing about when I was young and my brother and I taught ourselves the Rune alphabet, which is an old Norse alphabet that is used in the book The Hobbit. The alphabet is used on the map at the back of the book. I decided to make a code with the rune alphabet as well, so you have a choice of two codes that can use. I like the Rune code as it is an actual alphabet and it is easy to write with mostly straight lines.
You can get the code downloads in the shop.
Save
Save


The following two tabs change content below.
Tonya is a pediatric Occupational Therapist, and loves creating things to work on skills and solve problems.
Latest posts by Therapy Fun Zone (see all)