I am always working on interesting and fun ways to work on fine motor skills, and love using clothespins to work on the skills. The kids enjoy pretend playing with ice cream, but for some kids, the ice cream buttons are too hard for them to do. I want them to work on fine motor skills and strengthen their fingers as well as squeeze in some writing practice, so what are we going to play? We are going to play Ice Cream Shop, and write down our ice cream order, then clip the ice cream scoops onto the cone with clothespins.
I made some rainbow colored ice cream scoops, and the kids also wanted to have their favorite basic flavors, so I made vanilla, chocolate and strawberry as well. I then attached some short clothespins to the back of the ice cream scoops. The kids can play in an open ended way to order ice cream from each other and write down their orders while making the ice cream cone by clipping the scoops onto the cone. Sometimes though I need the kids to do more specific tasks, so I made some cards with the ice cream flavors (colors) on them. The kids have to pick a card, write down the flavor that is on the card, and clip the correct ice cream scoop onto the cone. Some of the cards make you lose a scoop, or get an extra scoop. The winner is the child who gets all of the colors first.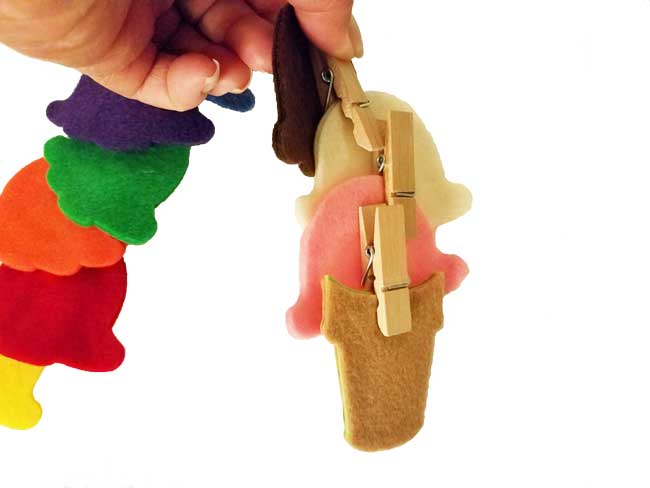 I made them out of felt so that they are nice and sturdy, and the set is also available in the store. The set includes two cones, 2 each of 9 colors of scoops, Ice Cream Shop flavor list, order forms, and cards.
Save
Save
Save
The following two tabs change content below.
Tonya is a pediatric Occupational Therapist, and loves creating things to work on skills and solve problems.
Latest posts by Therapy Fun Zone (see all)