Guess Who Clothespin Game
This is a guest post by Donna Abramson, OTR
Opening and closing clothespins is a wonderful way for children to develop strength in the muscles of their hand, particularly the webspace – which helps them to hold the pencil with a correct tripod grip. Using clothespins also helps children to separate the radial and ulnar sides of the hands, a prerequisite for efficient fine motor function.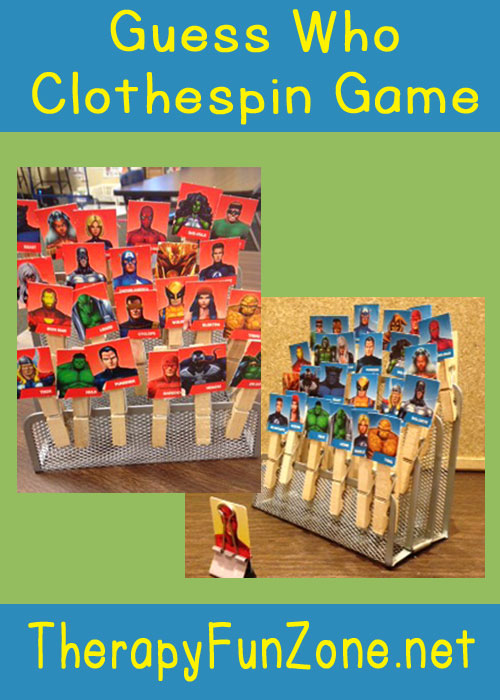 Guess Who
(by Milton Bradley) is a fun game that I really enjoy playing in therapy with my clients. The game comes with two game boards that have different faces on them. Each player chooses one of those faces and the other player has to try and guess who has been chosen by asking yes/no questions such as "Is it a girl?" "Does he have a hat?" etc. It is a really entertaining game and it works on many skills, such as visual discrimination and attention to detail.
As an OT who works mainly with elementary aged children, I am always trying to find fun ways to incorporate using clothespins in therapy. Inspired by Therapy Fun Zone's clothespin games, I was looking for a way to adapt the Guess Who game to be used with clothespins.
In a rush one morning before seeing a client, I took the Guess Who game that I had and I hot glued the face cards onto clothespins. To play the game, the children have to place all the clothespins onto a letter holder. To hold the card that the other player is guessing, I used a binder clip.
When playing the game, the child has to remove all the cards that are eliminated when they ask their questions, until only one is left. This gives the child a lot of opportunity to open and close the clothespins without them even realizing that they are exercising their hand and finger muscles! One can also add in a writing component by having the child write down the questions that they ask.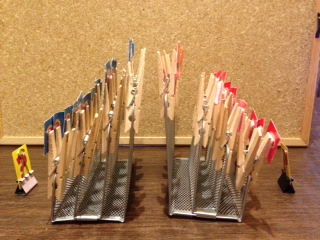 Expanding this idea, one could use many different card games in this way, such as Uno or Go Fish. So, I then used velcro and attached it to some clothespins and then attached velcro to the cards. This way, one can switch out the cards and play many different games. This seems to be a better way to do it because if the clothespins break, it is easy enough to attach velcro to another one, whereas if they are hot glued, it is hard to remove them.
When I use this in therapy, the children really enjoy it and ask to play it over and over again. For me this is the most essential element in Occupational Therapy with kids – finding a fun way to develop fine motor skills and help children improve their function.
Donna Abramson, OTR

The following two tabs change content below.
Tonya is a pediatric Occupational Therapist, and loves creating things to work on skills and solve problems.
Latest posts by Therapy Fun Zone (see all)