I see so many articles and statements about the dynamic tripod grasp being the one that should be used, and that you need to have a child learn to use that grip.
I think that's rubbish.
Yes, the dynamic tripod is the most efficient, but many grasps can be just as efficient if they are the preferred grasp for that particular person.
Typical kids who use a pattern other than tripod are just as efficient in class as their peers who use a tripod.
Here is a list of the handwriting grasps:
Tripod
Dynamic tripod
Adapted tripod
Quadrupod
Gross grasp
Digital pronated
5 finger
Thumb tuck
Thumb wrap
Tripod with closed web space
Finger wrap
The adapted tripod uses the least amount of muscle strength.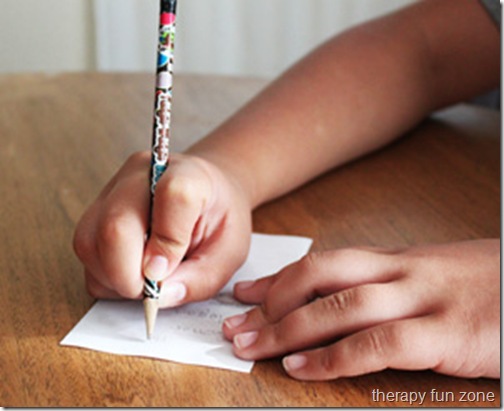 The following two tabs change content below.
Tonya is a pediatric Occupational Therapist, and loves creating things to work on skills and solve problems.
Latest posts by Therapy Fun Zone (see all)