I have joined some other bloggers to share recipes and posts about sensory dough called the Twelve Months of Sensory Dough, and this month's play dough is snow dough. When I think of snow, I think of white, and since marshmallow fluff worked so well in the sweet potato play dough, then I thought I would use it to make a snowy play dough. It turned out really well and has a bit of a rubbery consistency. It is stiff, light, and stretchy. I kept it in the refrigerator over night and in the morning it was hard as a rock so I put it in the microwave for 10 seconds and it was soft and rubbery again.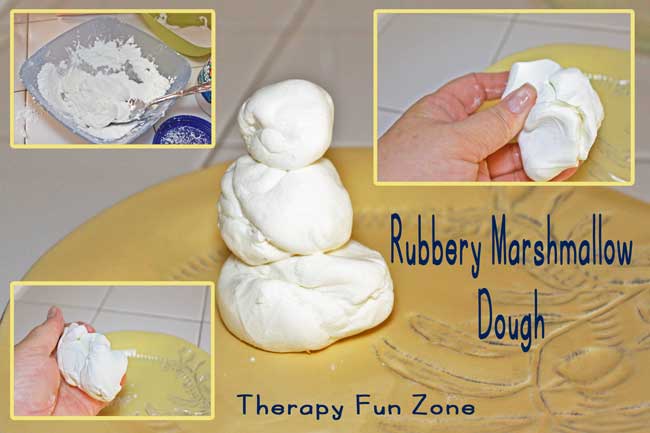 I used ½ a cup of marshmallow fluff and a ½ a cup of corn start with a teaspoon of oil to help it blend. I mixed the corn starch into the fluff a little at a time because too much corn starch will make it dry and crumbly. You may not have to use all of the cornstarch.
This is a dough that the kids can help mix, although it can be messy until all of the ingredients get mixed together. Once it was mixed, mine continued to be a little tack, but not much. It is a rubbery and stretchy type of dough.
This dough tastes deliciously like marshmallows.
Recipe for Rubbery Marshmallow Play Dough:
½ cup marshmallow fluff
½ cup corn starch
1tsp. oil

Combine marshmallow and oil (you can microwave the marshmallow fluff for 10 seconds to help with mixing). Mix in the cornstarch a bit at a time to make sure that you don't use too much.
Skills:
Fine motor
Cooking
Sensory
Check out the other posts about snowy play dough in the 12 Months of Sensory Dough series.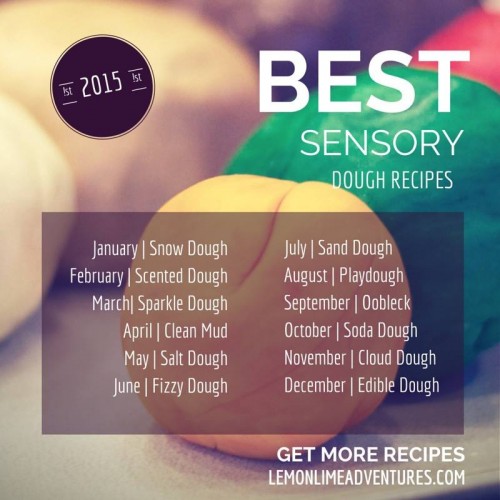 Experimenting with Snow Dough | Lemon Lime Adventures
How to Make Snow Dough (Taste Safe) | Powerful Mothering
Book-Inspired Snow Dough Sensory Play | Stir the Wonder
Snow Fairy Small World with Snow Sensory Dough | Still Playing School
Snow dough Slime Recipe | Little Bins for Little Hands
Snow Dough Science | Raising Lifelong Learners
A Snowy Day Snow Dough Play | Natural Beach Living
Frozen Snow Dough | Sugar Aunts
| Glittering Muffins
Edible Snow Dough | Wildflower Ramblings
| The Life of Jennifer Dawn
Baby Cereal Snow Dough | Creative World of Varya
Vitamin E Snow Dough Recipe | FSPDT
Rubbery Marshmallow Play Dough | Therapy Fun Zone
Snow Dough & Outdoor Play | Peakle Pie
Music Inspired Snow Dough | Witty Hoots
Glittery Snow Dough | In The Playroom
Arctic Small World Snow Dough | Best Toys 4 Toddlers
Snow Dough Frozen Inspired Small World | Preschool Inspirations
Sparkly Taste Safe Snow Dough for Toddler & Preschool Sensory Play | Bare Feet on the Dashboard
Fizzy, Frozen Snow Dough | It's A Long Story
Frozen Inspired Snow Dough | The Pleasantest Thing

The following two tabs change content below.
Tonya is a pediatric Occupational Therapist, and loves creating things to work on skills and solve problems.
Latest posts by Therapy Fun Zone (see all)