When Scooter board fishing, your hands are the paddles and you have to move your boat around the ocean to catch all of the fish.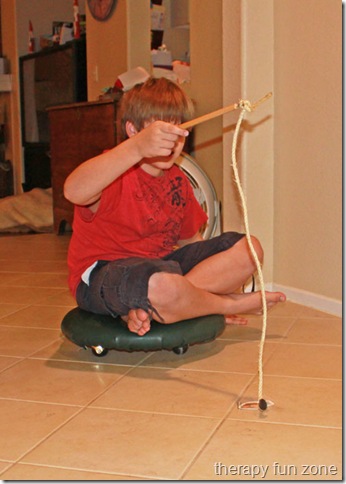 The fish can be anything that you can put on the floor for the fisherman to collect. I used paper fish that I laminated with a paper clip as the metal mouth. Then I used a magnet on a string as the fishing pole. You could also just collect the fish around the room without using a pole. The client could be prone, sitting, or on his knees.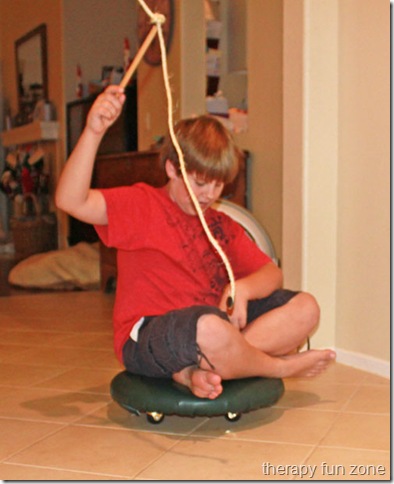 You use bimanual skills to get the fish off of the pole. I have played this game on a big upside down dome that rocked like a boat. You could also play it on a rocker board to maintain balance while fishing.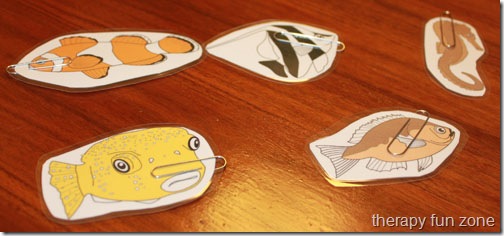 I printed the fish pictures, glued the two together so that they are two sided, and then laminated them.  I added the paperclips so that it could be a magnet game.  Here are pdfs of the fish pictures, and the fish pictures reversed.
This game could be played with older people using wheelchairs rather than scooter boards. Adults like to have fun too.  Amazon has many fishing games
.
Materials:
Scooter board
"Fish"
Fishing pole
Skills:
Arm strength
Range of motion
Back/core strength
Bimanual Skills
Balance