I have never played the Sequence Game
 until last weekend. It has some fine motor aspects to it, but I think that the biggest challenge is visual perceptual. You draw cards and have to find the matching card on the game board and put a chip on it.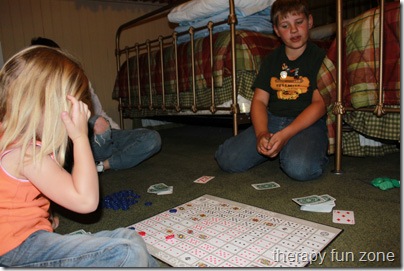 The goal is to get five chips in a row, or a sequence. It is hard to find the matching space on the board and requires a lot of visual scanning.
I do think that the game is too hard for some of the kids I treat, but would be good for adults. Older kids would enjoy it too.
I did a search for sequence on Amazon, and of course found the game, but they have one for kids too, and they have one with numbers, and one with states and capitals.  It could be a good learning game.  Here are links that I found in case anyone cares.  (which they probably don't).


The following two tabs change content below.
Tonya is a pediatric Occupational Therapist, and loves creating things to work on skills and solve problems.
Latest posts by Therapy Fun Zone (see all)