Rose-Marie has a blog titled Adapting Creatively, and she created a rain poncho that can cover the person and wheelchair.  It looks like it would be incredibly useful.  Here is a little bit of what she posted, but you need to go over to her site in order to get the full instructions on how to make the poncho.  She has quite a few details.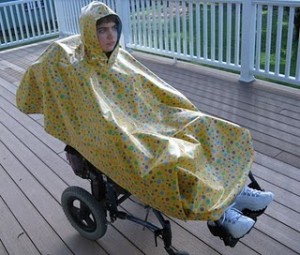 This hooded rain poncho is one-size-fits-most-kids. Feel free to adjust the measurements to fit your wheelchair user.
Features that make this poncho handy are:
• a waterproof outer fabric to keep rain off and fabric choices to make the inside varying levels of cozy-warm;
• corner tucks that keep the poncho snuggled around the knees for a drier, warmer lap;
• the ability to fold completely flat for storing in a backpack;
• a shortened back length. It's long enough to keep the wearer's back dry, along with any tote bags hanging off the back of the wheelchair, but short enough not to interfere with push handles (a longer-backed variation is described at the end). It can also tuck between the wearer's back and the seat without interfering with sitting;
• simple sewing.
Please note that this pattern is for personal use only. Thanks!

Looking For More? Try these categories
The following two tabs change content below.
Tonya is a pediatric Occupational Therapist, and loves creating things to work on skills and solve problems.
Latest posts by Therapy Fun Zone (see all)