Many of the kids that I see for therapy have trouble with handwriting. Handwriting trouble stems from other problems such as fine motor problems, hand weakness, visual motor/visual perceptual problems, in-hand manipulation, and motor planning problems. One small thing that can help with handwriting is to get the hand in the right position to write properly.
I was seeing a kindergarten student the other day, and he was having trouble getting his hand into the tripod position for writing due to motor planning problems. This child also has a diagnosis of Autism. I gave him a small bouncy ball and told him to hold it in his hand with his pinky and his ring finger. By doing that, it was so much easier for him to hold the pencil with his other fingers. Holding the ball in his hand seemed to stabilize his whole hand so that it was much easier for him to move the pencil to make his letters. It was such a simple solution that had an immediate and obvious change in his writing function and legibility.
In order to keep the ball from getting lost, I made an attachment out of rubber bands so that the ball stays with the pencil. I will attach some shaped erasers next and have a special day class test them out for me.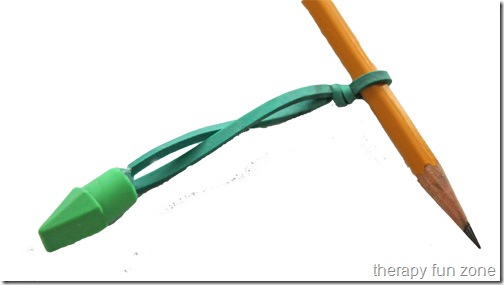 You can use any object to hold in your hand to improve writing position. The concept behind it is that with the ulnar (pinky finger) side of the hand closed, it stabilizes the hand in order to let the radial (index finger) side of the hand perform the required action (writing). We do this naturally, but many kids with fine motor and motor planning problems do not do it naturally at all. Holding an object in the hand while writing can facilitate the natural writing position and give stabilization.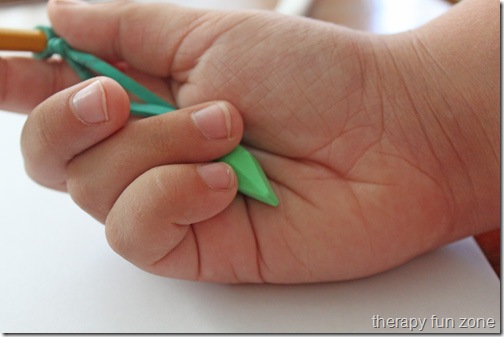 Get out there and give your kids something to hold.
We will have these writing charms available for sale.  I have some made with the simple cap erasers, but will be making some with animal erasers as soon as the erasers get here.
Materials:
Small ball, eraser, or other small object
Skills:
Fine motor
Handwriting
Motor planning
Save


The following two tabs change content below.
Tonya is a pediatric Occupational Therapist, and loves creating things to work on skills and solve problems.
Latest posts by Therapy Fun Zone (see all)