I work with a child that needs to improve her fine motor skills, but she puts everything in her mouth. She enjoys the marble run, but I am nervous about using it with her. I decided to try stringing cheerios as a good edible fine motor activity.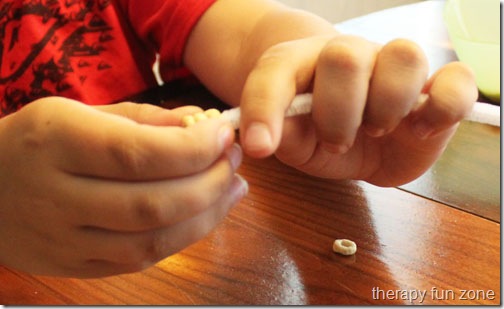 My client is not ready to string the cheerios onto a string, so we ar putting them on a pipe cleaner. Honey comb is a fun alternative with many holes to string through.
Materials:
Pipe cleaner
Cheerios (or honeycomb)
Skills:
Fine motor
Fine motor precision
Looking to find printable activities? You can find them in the community shop



**** I often will link to things on Amazon. These are usually affiliate links that will pay me a couple of dollars if you happen to buy something while there. Any money made through the Amazon links goes back into this site and helps us keep it going. Thank You.
The following two tabs change content below.
Tonya is a pediatric Occupational Therapist, and loves creating things to work on skills and solve problems.