How I use the Road Writing
I am writing a lot about the roads that I made because I have been working on them for so long, and have been keeping myself from writing about them until they were done. I use the big roads and letters, and the maps the most. That could be because they are the ones that I finished first, and they are the right size for match box cars, therefore they are the most fun, and the most motivating.
I made the skinny roads because I wanted to have the letters magnetic as well as the roads, but I didn't want to have to print on 52 magnet sheets. The magnet sheets are expensive. With the skinny letters, I was able to arrange multiple letters, upper and lower case, on each page.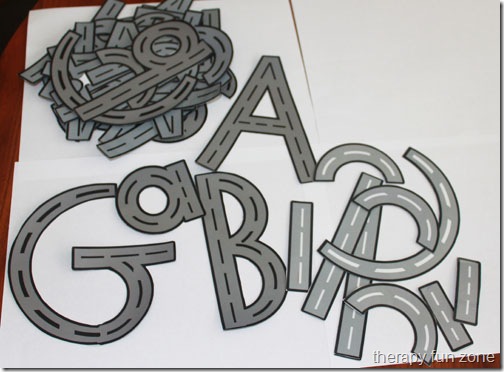 If I had to choose only one set though, it would be either the big roads, or the road maps due to the motivation factor of using the matchbox cars with them.
When I print the roads, I print them on printable magnet sheets
, then I cover the top with a sticky laminating sheet. I burnish it on with a blunt tool, or run it through my heat laminator
(can do it on the cold setting too), and then I cut out the road shapes. That way I know that the lamination is on each shape really well so that I can use dry erase crayons on them without ruining the printing.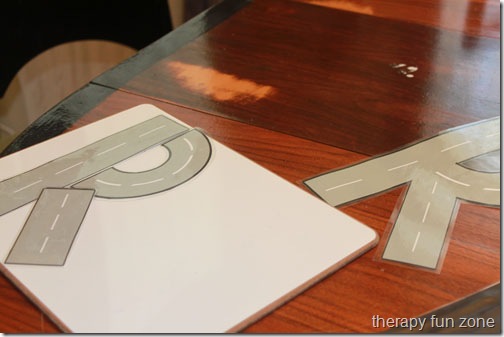 The kids that have been using these see me pull them out, and they immediately want to pick a car to use. Some kids go straight to the letter shapes and I have them build the letters with the roads, then they get to drive on the letter, and then they can write on the letter. Other kids are not to the letter stage yet, and they get to just have a simple straight or curved road to drive on, and then they get to follow the road with the dry erase crayon. I even made a copy of the big roads and letters for one of my students to take home and practice /play with over spring break.
These roads are really great for working on visual perceptual skills that are directly related to handwriting.
Materials:
Skills:
Visual perceptual
Fine motor
Handwriting
Save

Looking For More? Try these categories
The following two tabs change content below.
Tonya is a pediatric Occupational Therapist, and loves creating things to work on skills and solve problems.
Latest posts by Therapy Fun Zone (see all)