Peanut Butter Playdough Recipe:
Playing with playdoh is fun, and if you can eat the playdoh when you are done, it can be even more fun.  It is also a good way to play with food for kids that have problems with eating.
Ingredients:
1 cup of smooth/creamy peanut butter
2 cups of powdered sugar
1/2 cup honey
Mix all the ingredients together – if it seems a little too dry at first, you can stick it in the microwave for a few seconds to melt the peanut butter a bit. Once you start kneading it and playing with it it will soften up to the perfect consistency :)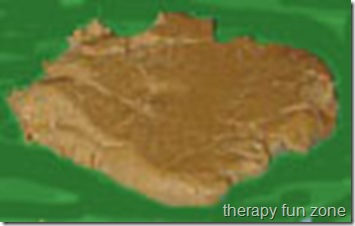 Materials:
Peanut Butter
powdered sugar
honey
Skills:
Fine Motor
Hand Strengthening
Desensitization
Sensory
Feeding
Home Skills (cooking)
You can find another post about another peanut butter play dough recipe.


The following two tabs change content below.
Tonya is a pediatric Occupational Therapist, and loves creating things to work on skills and solve problems.
Latest posts by Therapy Fun Zone (see all)