I like to work on many skills within the same activity, and these folded flowers definitely do that.  I discovered these via pinterest, and they are originally on Whimsical World of Laura Bird.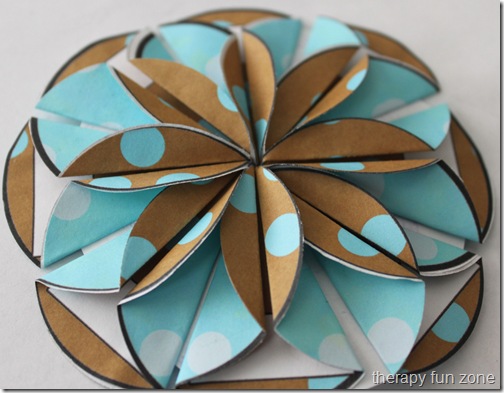 I often have kids that need to work on writing small enough to fit into a specified space, such as writing answers on a worksheet, or filling in a form, so I added a writing box in the flowers for the students to write something that they like about themselves, or something that makes them happy.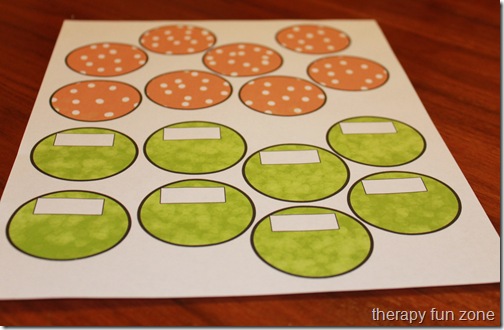 I call them happy flowers.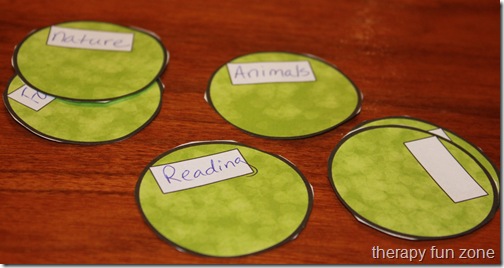 Here is the template to print out.  I made several different ones of different colors and patterns.  Each page is made up of 8 2" boxes of one color, and 8 2" boxes of another color.  There is also a template of a back piece, which is optional.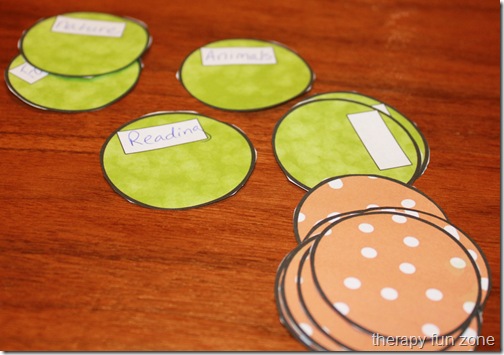 You either cut out all of the circles using scissors, and glue them back to back, or you can use a 2 inch hole punch.  I opted for the hole punch, which I found at Michael's (craft store).  To be honest, I started by cutting them out, and then found the hole punch to be much easier.  The one I used is a Fiskars Squeeze Punch X-Large
hole punch, and works on visual perception by having to line up the circle in order to punch it out.  It works by squeezing two levers together, so it works on hand strengthening too. (Here it is on the new Therapy Fun Store, which is not quite finished yet)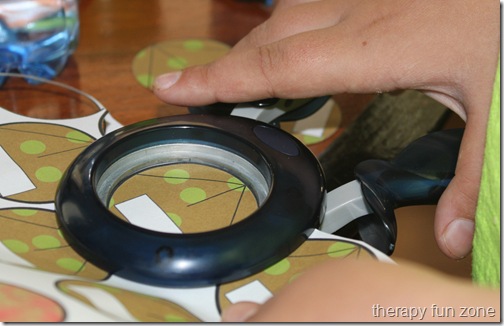 Once the circles are cut and glued together, you fold back the sides on the V lines so that you have a point.  Then you fold in, and line up the straight edges on the center line.
Once all 8 circles are folded, you cut a circle slightly smaller than the finished product will be.  I have made a template for each of the back colors.
You then glue the pieces, points together in the center.  Start with the four points of north, south, east, and west, and then fill in the other pieces.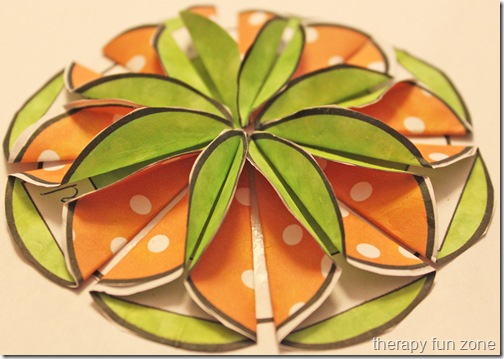 It works best if you write in the writing boxes before cutting them out, and of course, before all of the folding.
These are great for the client who appreciates having something nice to take home after all of their hard work.  You can do this by just punching out 2 inch circles from patterned scrapbook paper as well.  If using the paper punch, you have to cut the edge of the paper so that it is close to the circle so that the punch will get close enough.
Materials:
Patterned paper (circles)
scissors or 2 inch hole punch
glue
pencil
Skills:
fine motor
visual perceptual
hand strength
cutting skills
cutting template/paper template