Munchy Ball Dress Up and New Colored Balls
It is fun to have a toy that is personalized and not the same as all of the others. We spent some time last weekend dressing up the Munchy Balls and making them unique. On some of them we used colored sharpies to draw on some permanent changes such as adding red lips, eyelashes, hair, and beards. On some other Munchies, we used craft foam to make funny hair styles and then stuck them on with hot glue. The hot glue peeled back off, so those changes were not permanent, but another way to make them stick (and to create the hair) is with duct tape.

We have also experimented with making duct tape clothes for the Munchies. It is quite challenging making the clothes as it requires doubling over the tape so that the sticky part is covered.
Last week I received some new colors of Munchy Balls, so we now have yellow and orange available as well as the blue color, and now there is also purple. It is fun for the kids I work with to get to pick the color of ball that they want to use (and they can pick the one with the lips or the beard now too). If you want to order a specific color, you need to tell me in a message because the colors will be chosen randomly and will depend mostly on what is most available.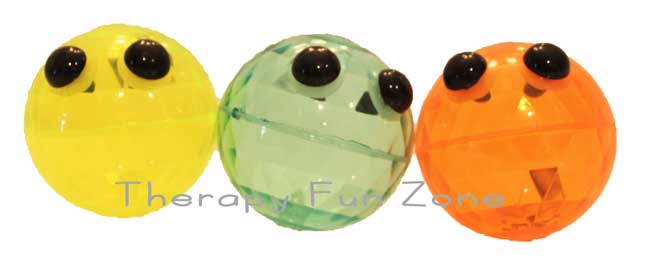 What kind of accessories will you add to your Munchy Ball?
Need to buy your own Munchy Ball?

Save
Save


The following two tabs change content below.
Tonya is a pediatric Occupational Therapist, and loves creating things to work on skills and solve problems.
Latest posts by Therapy Fun Zone (see all)