Jelly Fishing With Two Butterfly Nets
This activity evolved from another activity, and the child who was doing it thought it was so much fun. We had been playing with plastic bugs, so I got out the butterfly nets
, but it was too hard to catch the bugs or the balls in the nets when they were thrown, so we had all of these balls
all over the floor.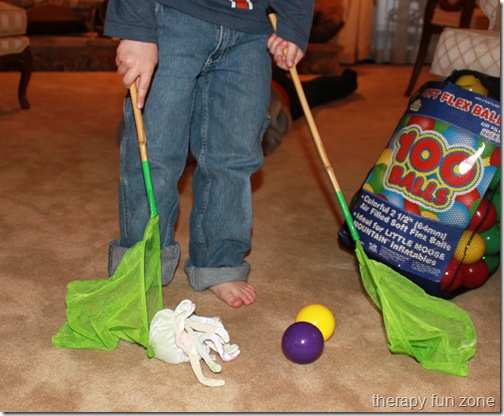 We then started scooping the balls up off of the floor with the nets, and I incorporated some bimanual hand use by using two nets at a time to get the balls in.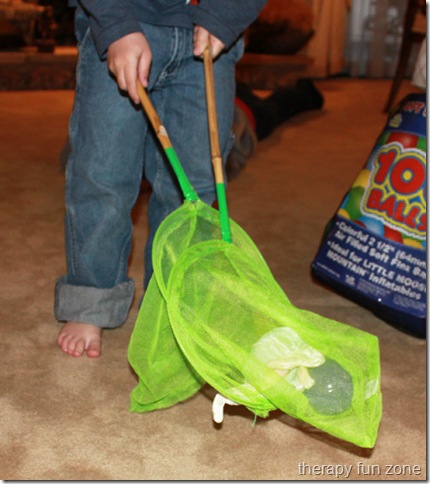 The student who was doing the activity named it Jelly Fishing because that is what Sponge Bob does with his butterfly nets.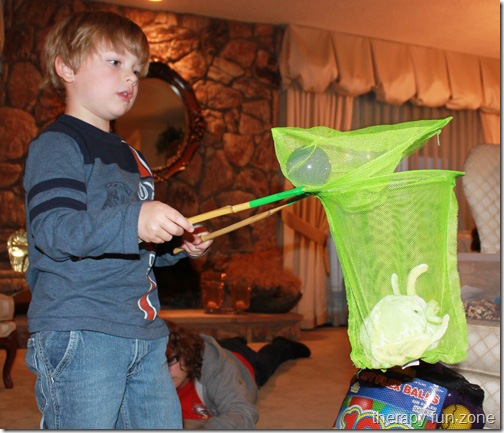 We caught a lot of jelly fish that day. This activity requires good motor planning to coordinate both sides of the body to pick up the jelly fish.
Materials:
butterfly net
Stick or second net
Balls, beanbags, beany babies, or other item to catch
Skills:
Bimanual hand use
Motor planning

The following two tabs change content below.
Tonya is a pediatric Occupational Therapist, and loves creating things to work on skills and solve problems.
Latest posts by Therapy Fun Zone (see all)