Fine Motor Skills and Typing
When a child has difficulty with handwriting or can't keep up in class, many people jump to the statement that they can just type instead. But can they? There are a lot of fine motor skills that go into typing, and it takes years to master the skill to be able to type with more speed than it takes to write, so is typing really the answer? Let's take a look at what fine motor skills are required to type.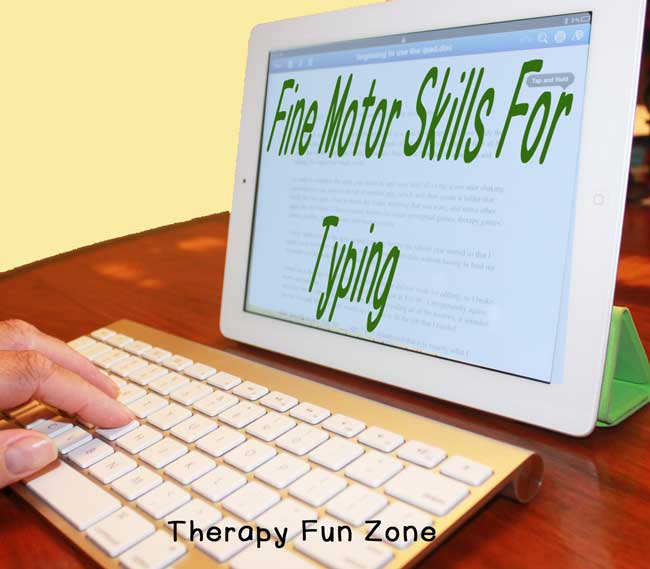 There is a difference in the muscles and fine motor control that are used when touch typing for speed versus when hunting and pecking with one finger. For a student with significant fine motor problems, one finger typing may be easier than writing, and the motor control required would be the ability to isolate a finger and move that finger to the correct letters around the keyboard. This is a very slow way to type, but requires less muscle exertion than writing.
The other way to type is touch typing where each finger is responsible for certain letters/keys. Touch typing requires little strength, but lots of motor coordination. It requires practice and training in order to get good at it, and it can be much faster than writing once you have mastered it. It can take years to master it though. In order to be able to sucessfully touch type, you need to be able to isolate each finger movement and make tiny separate finger movements in a very small and controlled area. This controlled movement requires the coordination of the small muscles in the hand and fingers. These are the same muscles that are used when doing tasks that require in-hand manipulation.
Touch typing is great for people who have the motor coordination and need the speed it can provide. It is also perfect for people who need to use less muscle strength and need to place less stress on their finger joints.
Check out the other typing posts below for accommodations and ways to work on the skills.
This post is part of the Functional Skills for Kids series. You can read all of the functions on childhood HERE.  Read all of my monthly posts in this series HERE.
Looking for more information about typing? Stop by to see what the other Occupational Therapists and Physical Therapists in the Focus on Function series have written.
When is My Child Ready to Learn to Keyboard? | Miss Jaime, O.T.
Fine Motor Skills and Typing  | Therapy Fun Zone
How to Implement a Keyboarding Club | Sugar Aunts
10 Keyboarding Modifications to Help Kids Type Better | Mama OT
Activities to Help Children Learn to Type | Growing Hands-On Kids
Assistive Technology for Kids Who Struggle With Handwriting  |  The Inspired Treehouse
Work Station, Positioning and Keyboarding Skills| Your Therapy Source
Visual Perceptual Considerations When Typing  | Your Kids OT
Save
Save


The following two tabs change content below.
Tonya is a pediatric Occupational Therapist, and loves creating things to work on skills and solve problems.
Latest posts by Therapy Fun Zone (see all)