Fabric Marble Maze with metal marble and magnets
Last year I made a fabric marble maze, and created a pattern that can be downloaded to make your own. When I was having my button pizza, sandwich, and oreos made, I decided to have the marble maze made as well, and it is available in the shop.
It is made on a soft fleece black fabric with white stitching. The stitching is not as obvious as I thought it would be, so this is a fairly difficult maze. The marble is not stitched into the maze, rather there is an opening to place the marble into so that you can send multiple marbles in if you want.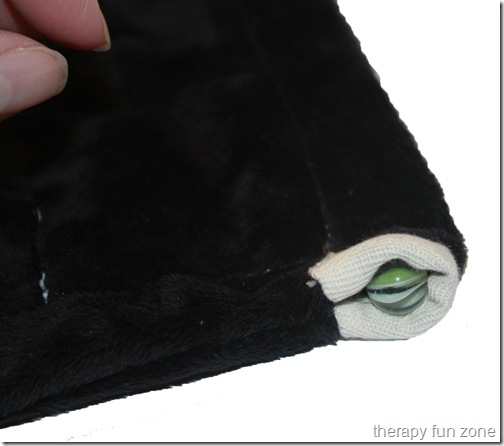 I used some puffy fabric paint to make the maze stand out on one of mine. This worked very well, and you can add that on your own if you'd like to.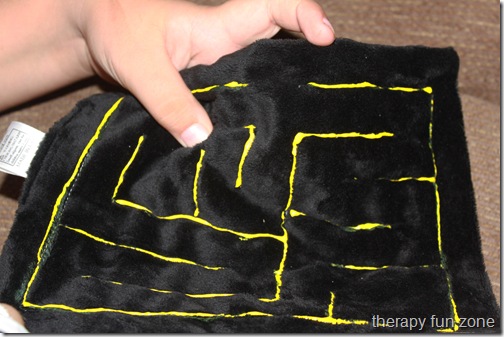 I also got an idea that a metal marble could be moved around the maze with a magnet. I got some 1/2 inch metal Ball Bearings
and magnets
, and it worked perfectly and was definitely an added challenge.
This activity is absolutely a fine motor and visual perceptual challenge, and will be hard for those who have very limited skills in these areas.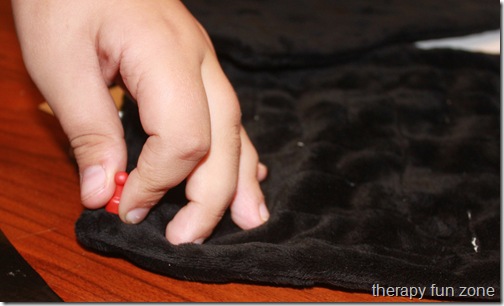 Materials:
Fabric marble maze
Metal ball
Magnet
Skills:
Fine motor
Visual perception

The following two tabs change content below.
Tonya is a pediatric Occupational Therapist, and loves creating things to work on skills and solve problems.
Latest posts by Therapy Fun Zone (see all)