I'm going to AOTA conference. Let's do lunch
I am officially going to the AOTA (American Occupational Therapy Association) conference in San Diego, Ca this April.  It will be my very first AOTA conference, after being a therapist for more than 20 years.  It is not budget friendly, so I have always had other things that I needed to spend money on, so I have not gone in the past.  This year, it is so close to home that I am caving to peer pressure (Karen), and will be at the conference.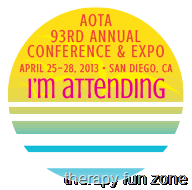 So who wants to meet up and do lunch?  As the time gets closer, I am going to work on a good place to park myself so that I can met up with people and just chat.  Let me know if anyone is interested.  If no one is, then I will probably just sit in a corner by myself and read a book

.