I have been working on some clothespin games for at least six months now. I wanted to have a board to attach clothespins to, but to have the option to play several different games. I went through a lot of trials and errors before I came up with my current solution. I was trying to have a solution that would be easy for someone to make, and easy to change the game board.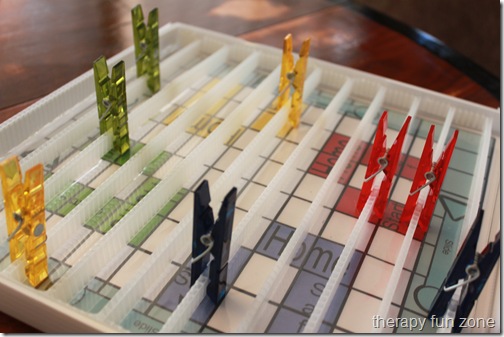 The board is made out of coroplast (corrugated plastic), and is hot glued and duck taped together. The size is just right to fit into a scrapbook storage box
, and the different game boards fit into a 12×12 scrapbook page protector sleeve. The game boards can be slid in and out of the bottom of the clothespin board in order to change the game that is being played.
Some games I have made so far are a basic grid to play 4 in a row, a grid for chess or checkers, a game similar to sorry (which was requested by one of my clients), a letters and writing game, a game similar to chutes and ladders, and a color and shape bingo matching. I will put together a post on how to make the board, so look out for that.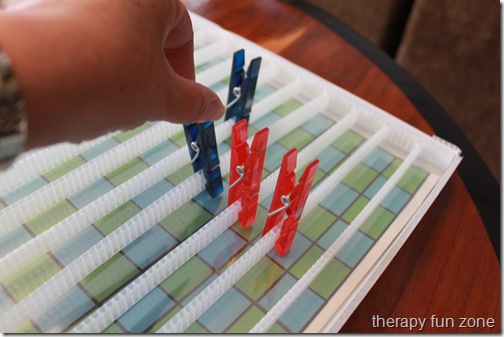 I have finished all of the games that I am working on, and they are fun and great for the kids to work with. You can find them at the Therapy Fun Store.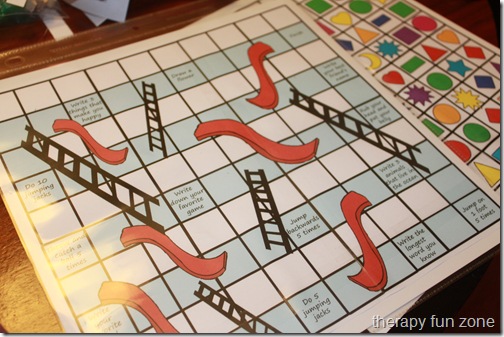 Save
Save


The following two tabs change content below.
Tonya is a pediatric Occupational Therapist, and loves creating things to work on skills and solve problems.
Latest posts by Therapy Fun Zone (see all)