Therapy/Learning Activities Monthly Link Up
The weekly therapy and learning activity link up did not really work as weekly was too frequent for people to have an activity to share.  Will monthly be better?  Let's give it a try.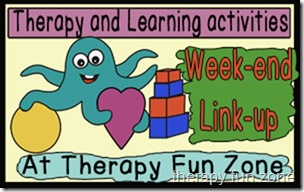 Link up your favorite activities of the month, and you are not limited to just one.  Share as many as you want.
By linking up, you are granting me permission to use and repost photographs from your blog.