Play with Scooping Ice Cream for Skill Development
Scooping is an important skill to have, and can easily be worked on in a fun and playful way. I decided to have fun with it with an ice cream scooping session, using large home made pom poms as the scoops of ice cream. I neglected to make toppings which the child working on the skill insisted we needed, so if you plan ahead, you can make toppings out of felt to sprinkle on. Since I didn't plan ahead as much as I should have, our toppings were made from paper and cardboard torn into pieces, cut up pool noodles, and little balls. This was perfectly acceptable since the creatures that we were making the delicious ice cream sundaes for were insects (per the child's choice), and some insects love to eat cardboard (right?).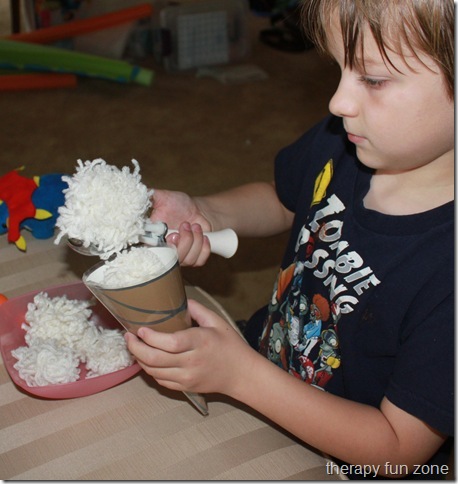 So to start this fun pretend play, I made some paper cones, and some large pom poms. You can download the cones and tape them into a cone shape. To make the pom poms, you wrap yarn around your hand over and over until it is fairly thick. Then you tie a piece of yarn around the center of your wrapped yarn, and slide it off your hand. You will likely have to slide it off your hand first to get it tied all around the middle of the yarn. Make sure it is tied tightly. Then you snip the loops along both ends to make the ends open, and fluff it out into a pom pom.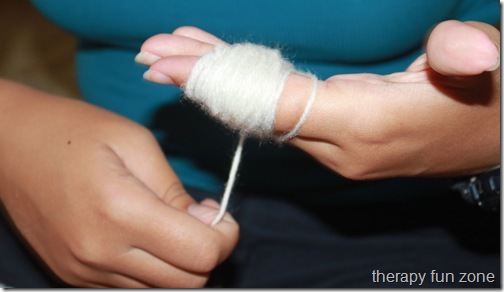 I then put all of the pom poms into a big bowl, and gave the child an ice cream scoop. He then went at it scooping out pom poms into a large "waffle" cone for me to eat. He put some into a bowl too, and added different toppings. When scooping into the cone, he had to hold the cone with one hand while scooping with the other, and in order for the pom poms to stay in the scoop he had to get some good supination (palm up) of his forearm. He had a really fun time, and took this activity much farther than I initially thought that he would. He was quite convinced that he was able to scoop real ice cream when we were done.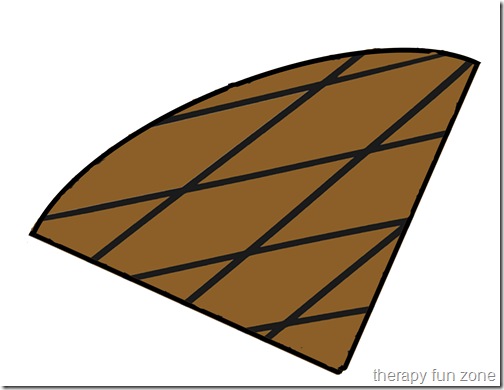 You can add an additional challenge by using play doh instead of the pom poms and actually doing some scooping. There are also different types of scoops that require different hand skills to release the "ice cream" (play doh). The scoop that we were using has a lever that is pushed with the thumb. I have also seen a sscoop that is a whole hand squeeze release
that would be great for working on hand strength and pre scissor skills.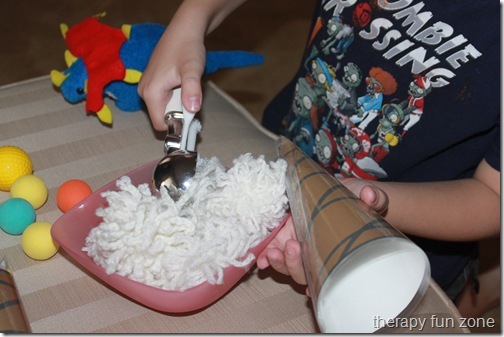 I could see using this activity as a part of the Ice Cream Sundae clothespin game, and when you win a topping, you get to add it to a pretend ice cream sundae, and thereby practicing the adl skill of scooping while playing a fun game.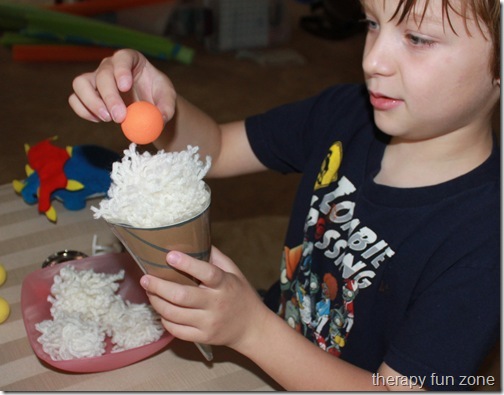 New:  In the comments, a suggestion was made to have a white version of the ice cream cone so that each child can color their own.  What a great idea, and here is the white version with smaller squares.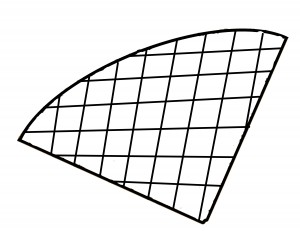 Materials:
Skills:
Forearm movement
Scooping (adl)
Hand strength
Pre scissor skills