Fine Motor Wiffle Ball Creatures
This is a fairly open ended activity that works on fine motor skills, motor planning, visual perception, and planning in general as you try to make creatures and structures that will stand up. I used practice golf balls that have the holes in them and some pipe cleaners. I wish that I had brought some sticky googly eyes as that would have made the creatures even better.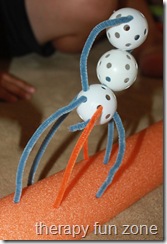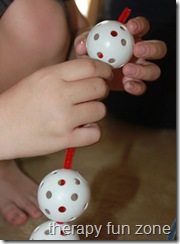 It was great fine motor work just threading the pipe cleaners through the wiffle ball, and it was even harder to figure out how to make them stand. One difficulty was that the pipe cleaner would rotate around, so we fixed the standing problem by sticking the legs into pool noodles. That held them.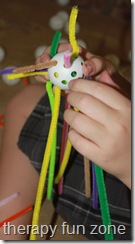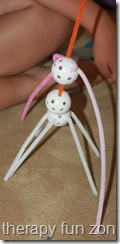 Materials:
Practice golf wiffle balls
Pipe cleaner
Pool noodle pieces
Skills:
Fine motor
Motor planning
Visual perception
Save
Save


The following two tabs change content below.
Tonya is a pediatric Occupational Therapist, and loves creating things to work on skills and solve problems.
Latest posts by Therapy Fun Zone (see all)