Fine Motor Skills With Torn Paper Pumpkins
Here is a great activity that is worth doing every year. I love having kids tear paper because it really makes them work hard with their fingers and work on those fine motor skills. I have had kids cut out pumpkins and create a jack-o-lantern face on them. Today we are going to tear colored paper and glue the pieces onto a pumpkin to make a pretty torn paper pumpkin.  Last week I had kids use tissue paper instead of colored paper, and they tore the tissue paper into pieces, wadded it up and glued the wadded tissue paper onto the pumpkin.  It makes a pretty finished product with some great fine motor work.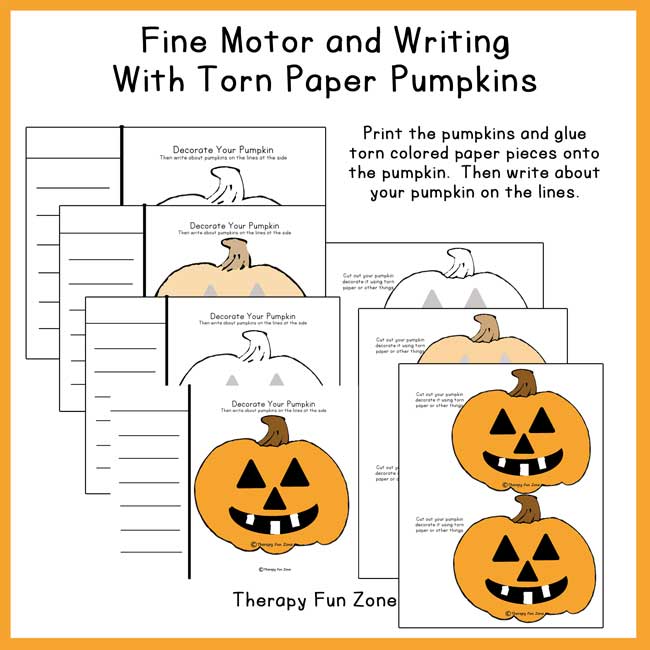 You could also just color the pumpkin and then decorate it with glitter glue or other pretty additions. To incorporate writing into our activity, I use the base paper to have the kids write about pumpkins, Autumn, or Halloween on the lines at the left side.  Check out the other fall and halloween activities that we have to work on.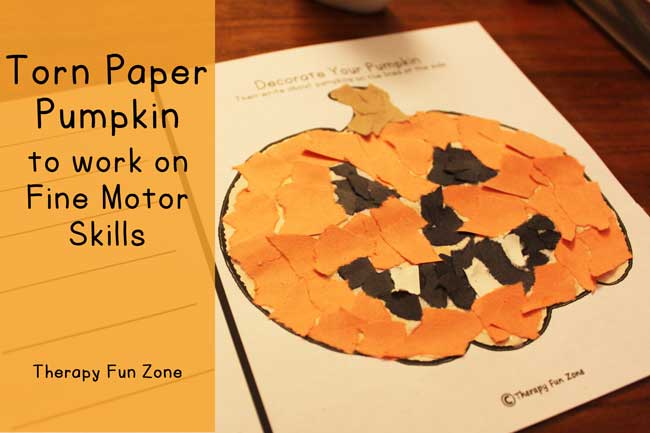 I have included pictures with a face template to make it easier to know where to add the face,  and also blank templates so kids can do whatever they want to their pumpkin.  With the blank template, you could use them for thanksgiving as well.
Materials:
colored construction paper
glue
Skills:
fine motor
handwriting
cutting
Save
Save


The following two tabs change content below.
Tonya is a pediatric Occupational Therapist, and loves creating things to work on skills and solve problems.
Latest posts by Therapy Fun Zone (see all)