To cast or not to cast? Constraint Induced Movement Therapy
This is a guest post, written by: Corey W. Stone, MS, OTR/L; Treating Therapist – UAB Pediatric Neuromotor Clinic
When people ask me about constraint therapy I never feel like they truly understand what I am talking about.
"You mean to tell me you are putting this kid's good arm in a cast, and making them do everything with their bad arm? That seems mean."
If I don't get a blank stare back when I explain what I do, then a get a response similar to that. I guess some folks think we cast kids for the heck of it to be mean. Who knows? The reality though is that the cast is just a minor detail in the concept of constraint therapy.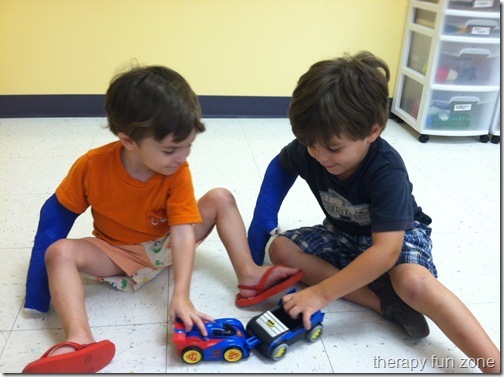 Constraint therapy's main goal is to show individuals with varying neuromotor disorders (cerebral palsy, traumatic brain injury, hemispherectomy, etc.) that YES your affected arm can do many things that you never thought it could do. Casting of the functional arm/hand gives the client time to strengthen the individual muscles of the less functional arm/hand without the worry and distraction of the functional arm/hand taking over like it has done most of their lives. After intensive work with the involved arm/hand through play and functional activities, clients are given time for bilateral (both hands) work based on their individual goals. The goal is to give each hand a job in everyday activities, and through repetition and consistency we can make this more achievable. For a small child that could simply be dressing themselves or tying their shoes with two hands. (Try tying your shoes with one hand. Hard, right?) For a teenager it could be learning the simple two-handed functions of a job they hope to gain. (Experiment! Give your everyday 9-5 a shot with one hand today. Frustrating?)
Let's look at it this way. Text message or voice call? Most of us opt for a text message because it's quick, easy, and straight to the point, but most of the time a voice call has a longer lasting impression. A voice call lets you hold a meaningful conversation, share a few laughs, and maybe even leave you with thoughts or memories that can last days or even a lifetime. We hardly ever call people anymore, right? As a matter of fact, we hardly ever have face to face contact! We live in a rushed society, and we all love instant results and gratification. What if you looked 50 years from now, having taken the more time consuming option, and were happier and healthier with more meaningful relationships than if you took the quick and easy route? Would you still take the easy way, or would you opt for the more time consuming option?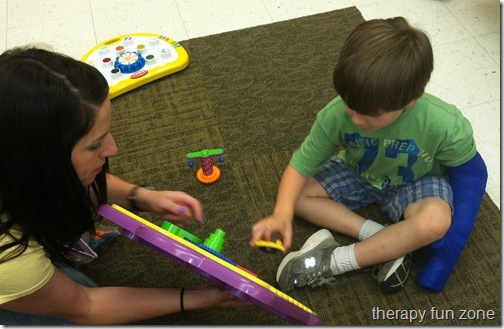 My point is that using two hands can be time consuming for individuals with hemiparesis/hemiplegia, but if you start early it can have lasting rewards. Just like with exercising, the more repetitions and activity certain areas of your body get the better they function, the healthier they feel and those workouts get easier over time. The same goes for the less functional side of the body for individuals with neuromotor disorders. You know the saying, "if you don't use it, you lose it." Well, I hate to break it to you, but it's true! If you continuously neglect something, it will eventually lose its function and potential.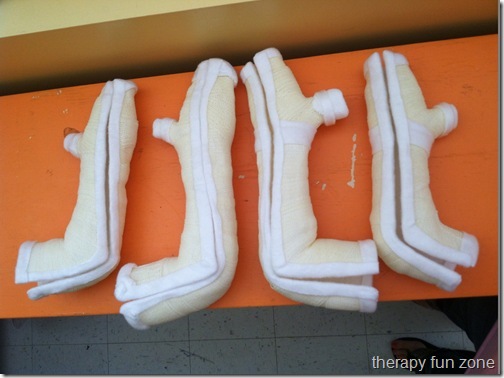 So, the question remains. To cast or not to cast? Depends on your life goals. Living one handed in a two handed world, or taking advantage of your full potential. Every person is different, but don't underestimate your abilities until you have given it a fair chance.
References regarding CIMT:
DeLuca, S.C., Case-Smith, J., Stevenson, R., Ramey, S.L. (in press). Constraint-induced movement therapy (CIMT) for young children with cerebral palsy: Effects of therapeutic dosage. J of Ped Rehab Med.
Case-Smith, J., DeLuca, S.C., Stevenson, R, Ramey, S.L. (in press). A multi-center randomized clinical trial of pediatric constraint-induced therapy in children with cerebral palsy. J of Occupt Therapy.
DeLuca, S.C., Echols, K., Ramey, S.L. (2007) ACQUIREc Therapy: A Training Manual for Effective Application of Pediatric Constraint-Induced Movement Therapy, MindNurture, Hillsborough, NC.
www.uab.edu/civitansparks/pediatric-neuromotor
www.facebook.com/UABPediatricNeuromotorClinic
Written by: Corey W. Stone, MS, OTR/L; Treating Therapist – UAB Pediatric Neuromotor Clinic
Save