I have a couple little guys that always try to make the tail of the lower case g come down from the middle of the g. We practice it, we talk about it, and they are doing it right, then next time I see them, they are back to doing it the old way. Last week I have been using playdoh to make letters since you can have a physical, hands on manifestation of how the g is made. I show them how to make it and then they have to do it and make sure that the tail is on the side of the g.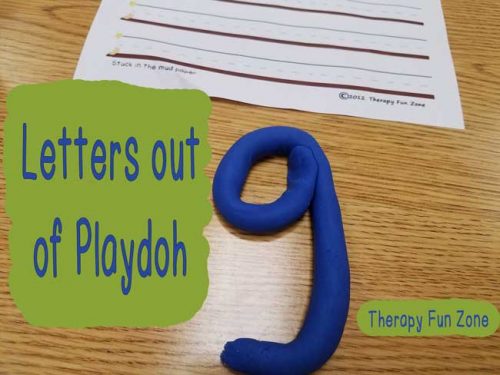 I am hoping that by doing it in a very concrete way, it will stick for longer than a day. Maybe even longer than a week. Here is one playdoh g.
I find that I really have to target the problem letters because I won't be able to hit the whole alphabet in therapy, so we will write many letters, but do special things with the problem letters.
What kinds of activities do you use to target problem letters?
The following two tabs change content below.
Tonya is a pediatric Occupational Therapist, and loves creating things to work on skills and solve problems.
Latest posts by Therapy Fun Zone (see all)