Let's talk about weighted pencils.  Abby has a nice post about making weighted pencils.  I have used weighted pencil kits to add weight onto a regular pencil, and I have seen the do it yourself pencil weights using hex nuts, but there are some things that have always bothered me about them.
The metal on the pencil is uncomfortable to hold, and can be slippery.
If you put the weight low, it is weird to hold onto.
If you put the weight high, it is awkward having it in the web space.
If you put the weight higher than the hand, it is weighing down the end of the pencil rather than the writing part of the pencil. This may be fine, but seems ergonomically not right for the writing process.
Why would you need a weighted pencil anyway?
Weight on the pencil can help stabilize uncontrolled movements due to ataxia.
The weight gives some more sensory feedback to the hand while writing.
Could be used for strengthening the fingers when writing or for writing on a vertical surface to strengthen the arm and shoulder.
I just started seeing a student who really really needs a weighted pencil due to ataxic movements. A co-worker recently went to Lowes and got some coupling nuts to make weighted pencils, so off I went to get my own supplies too. I got a 2 pack of coupling nuts size 3/8 – 16, and a 2 pack of rubber washers size 1/4 x ½ x 1/16. The metal of the coupling nuts was slippery, so to make it comfortable to hold, I put on some sticky back craft foam. The foam made it really comfortable to hold, and two coupling nuts on the pencil at the same time made it a great weight and extremely comfortable to hold.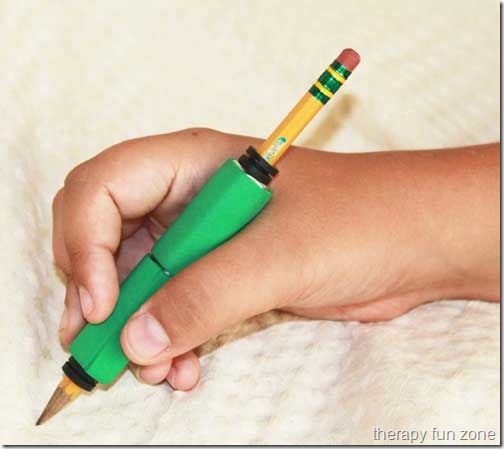 In fact, the weight of this pencil is so comfortable that I am frequently choosing to use it myself when I write, and I made myself a bunch of these to see if they are beneficial to more of the kids that I work with.  The only downside is that the craft foam is easy to peel off.  This could be a problem if you have a student who likes to pick at things.  Maybe some extra glue at the seam would help.
For those who can't run out to Lowes, I have my minions making some extra of these and will sell them in the shop as a two pack.
Materials:
Pencil
Coupling nuts size 3/8 -16
Rubber washer (or rubber grommet, or O-ring) ¼ x 1/2 x 1/16
Sticky back craft foam
Skills:
Save

The following two tabs change content below.
Tonya is a pediatric Occupational Therapist, and loves creating things to work on skills and solve problems.
Latest posts by Therapy Fun Zone (see all)