Spider Craft for Cutting, Folding, gluing, and Writing
Halloween is coming up soon, so I am having the kids make spiders this week.  The spider bodies require cutting out circles, and the legs require cutting rectangles.  You also have to fold the legs on the marked lines, which is a great activity for visual perception and motor planning.
I put a light web on the base paper to have the kids trace over it and make their own spider web.  It would be great to follow the web lines in glue and place yarn down too.
Then you put your spider together, and write about spiders on the lines on the base paper.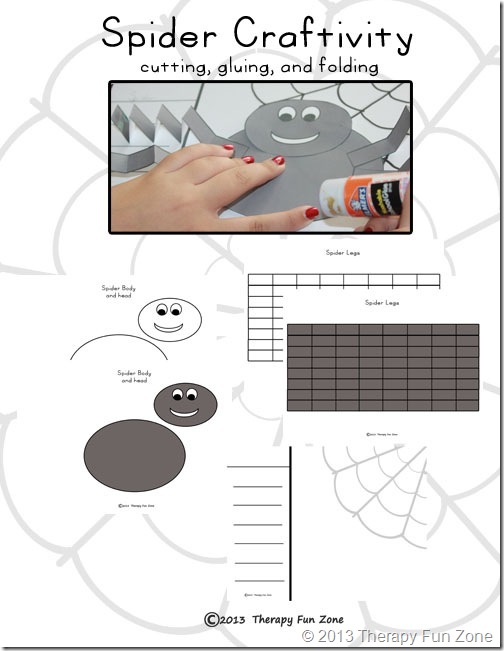 I have included a colored version, and a white version to have your students color their own.
Materials:
spider parts  free(print, or cut your own from black construction paper)
glue
marker and pencil
Skills:
fine motor
visual perceptual
motor planning
scissor cutting
Save
Save


The following two tabs change content below.
Tonya is a pediatric Occupational Therapist, and loves creating things to work on skills and solve problems.
Latest posts by Therapy Fun Zone (see all)