20 + Small Manipulatives for Fine Motor
When looking in my therapy bag, there are a few things that I always have with me. For higher level fine motor work, I always like to have small little manipulatives and some Training Chopsticks
. I have posted about these items before, but they really are a great go to item that works on the skills that I want to work on.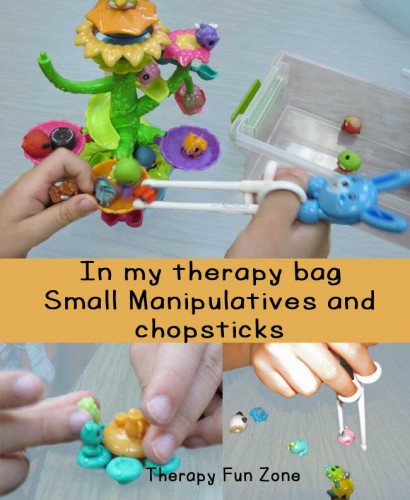 You can use almost any item as a small manipulative, and can use any tool in place of the chopsticks (as well as just using the fingers on their own).
Manipulative ideas:
Squinkies
Zinkies
Pom poms
Erasers
Rocks
Blocks
Legos
Counting bears
Play dough
Cut up straws
Pieces of pipe cleaner
Cereal
M & M s
q-tips
cotton balls
buttons
decorative glass marbles
marbles
beads
dry pasta
fun foam shapes magnet
balls
I like to use the training chopsticks with kids that need to work on higher level fine motor skills, but with kids that don't need that added level of difficulty, they could use their fingers with the manipulatives, or use another tool.
Tools to use with the manipulatives:
Chopsticks
Tweezers
Strawberry huller
Finger tongs
Clothespins
Spoon
You can use many containers to place the manipulatives into, such as recycled butter tubs.
Containers for manipulatives:
Butter tub
Sour cream tub
Coffee creamer container
Muffin tin
Muffin cups
Parmesan cheese container
Ice cube tray
Bowl
Munchy Ball (tennis ball head)
Egg carton
Check out more posts about chopsticks and tongs
Save