Making Christmas Trees with torn paper
I did this activity on Monday.  I used the christmas tree cutting template that I made.  We cut out the shapes and glued them in place on one side of a piece of paper.  On the other side of the paper, I made lines to write on. This is the base paper that I like to use for most of the little craft projects. My student colored her tree first, but I left mine white.  In retrospect it would have been even nicer if I had used the template that was already colored.  We then tore up green construction paper into little pieces, which works the small muscles of the fingers and hands, and we glued the torn pieces of paper onto the tree.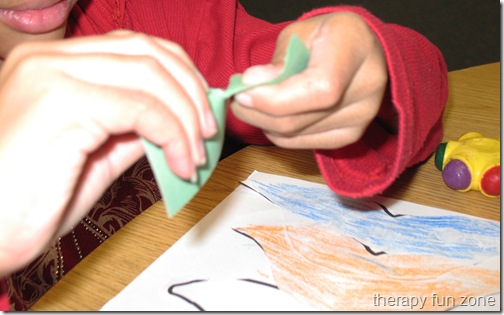 Once our mosaic tree was done, we wrote a list of things that we plan to do over christmas vacation.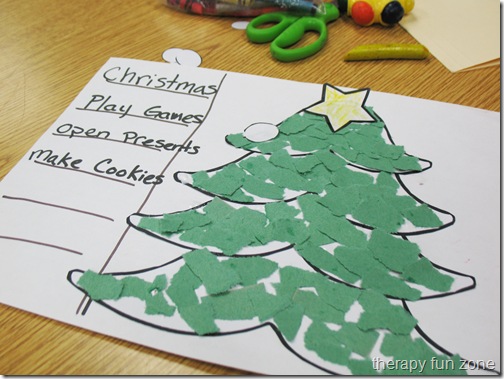 I love this activity because it incorporates cutting, gluing, arranging the shapes to glue, tearing paper, placing the torn paper, and writing on the lines.  I plan on doing this type of activity for every holiday, and many other occasions.  You can expect to see it again in a different form.
The end product was very nice.  It was more like a project from art class than a crummy therapy project.  My student, who has very good taste, wanted to take it home because she was proud of how it looked.  She normally just trashes whatever we make.
I also had some kids make some trees by cutting out triangles and gluing them into the tree shape.  I only had a few of the cutting templates with me, so just did the triangles.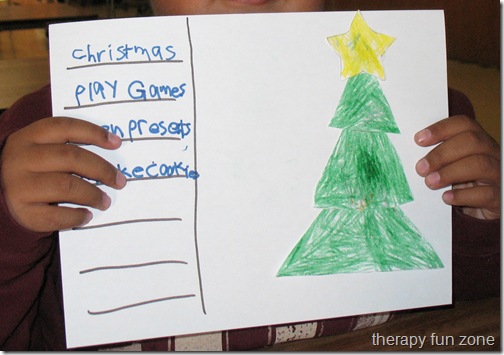 On another note, the glue that I used is regular elmer's, but it was in a new container.   It was a glue pen
.  There is a cap on both sides, and on one side is a tiny opening for the liquid glue to squeeze out, and on the other side, there is a flat surface where the glue comes out and you spread it around with the larger surface.  The cool thing about the glue is that when you squeeze it, you have to use your fingers.  It is too small to use your whole hand, and it is kind of difficult to squeeze.  It is a fine motor, finger work-out all by itself just squeezing the glue.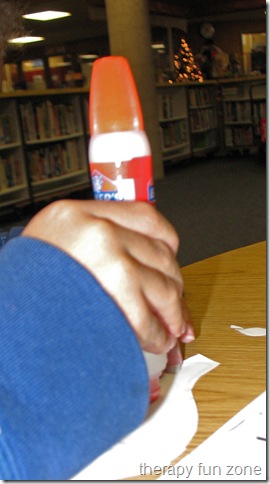 Materials:
Skills:
hand strengthening
visual motor
visual perceptual
scissor cutting
motor planning
handwriting
fine motor
Save
Save
Save
Save


The following two tabs change content below.
Tonya is a pediatric Occupational Therapist, and loves creating things to work on skills and solve problems.
Latest posts by Therapy Fun Zone (see all)