Cake Pops, a cooking activity with sensory and fine motor
I have seen these cake pops around the internet, and they look so cute.  I thought that it would be fun to have a holiday party and decorate cake pops.  Instead of a cookie party, we would do cake pops. 
As I was making them, I was thinking about the therapy involved.  You could only do these if you are in the right setting.  You would have to have a kitchen, and the whole process takes a while, so the therapist would need to do some prep. 
You first bake a simple cake from a mix, and let it cool.  Put the cake into a large bowl and crumble it up.  Then you mix in a container of cream cheese frosting.  You mix it in until the crumbled cake will stick together in the shapes that you form.  Then you use your hands and form it into shapes.  We did balls and Christmas trees.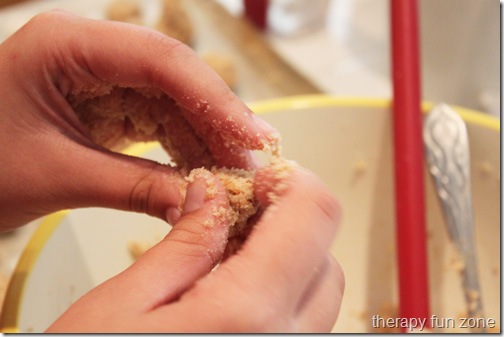 This part is like playing with play doh, but you get to eat it afterward.  It is sticky, so it makes a good sensory activity, and you use fine motor skills to mold the shapes.  It is important to put the shapes into the refrigerator or freezer for a bit so that they are cold when you dip them into the candy melts.  In fact, it would work well to do this activity in stages, and leave the cake shapes in the refrigerator until the next day, and dip them during the next session.  This activity would definitely be a multi session activity, and you could freeze them one week, and dip them the next.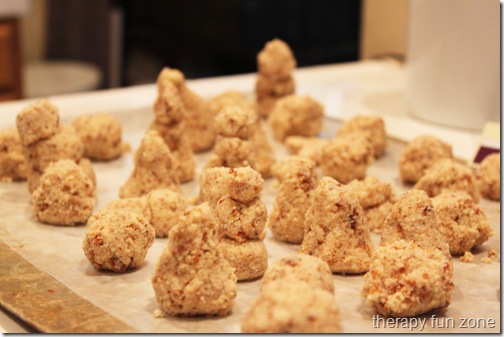 The next step is to dip the cake balls into melted chocolate.  I used candy melts
that I purchased at Michaels.  You can melt the chocolate/candy in the microwave, following the directions on the bag.  Use a deep microwaveable bowl.  I first dipped the end of the lollipop stick (also purchased at Michaels) into the chocolate and inserted it into the ball.  Once I did that to all of the balls, the first ones were dry and ready to dip.  You want to have some wax paper ready, and I put my pops into glasses to dry. 
Some people stick them into a piece of styrofoam.  The styrofoam is probably easier, but I didn't have any.  Next, I just held the balls by the stick and dipped them into the melted chocolate until they were covered.  Lift it out and let the chocolate drip off, then place it in the cup to dry.
It is a messy activity, and would be best broken up into a couple of sessions.  I was obviously not going for perfection in my shapes or my dipping.  They are really yummy.  I did a search on Amazon just to see what they had, and I found a Cupcake POP Mold
.  That might make it easier for some clients, but I prefer the hand molding method.  Bakerella has detailed directions on how to make them, and she is careful with her molding and dipping.  She has some beautiful cake pops, and a whole book on them.
Materials:
Cake
Frosting
Lollipop sticks
Chocolate or candy melts
Wax paper
Styrofoam or glasses to dry pops in
Refrigerator or freezer
Skills:
Fine Motor
ADL – Home Skills, Cooking
Sensory – Tactile

The following two tabs change content below.
Tonya is a pediatric Occupational Therapist, and loves creating things to work on skills and solve problems.
Latest posts by Therapy Fun Zone (see all)