Work on Dressing Skills Through Play Activities
Dressing skills are the bread and butter of the Occupational Therapy profession, but not every setting or session is an appropriate time or place to have your client get dressed or undressed.  I used to joke around with a Physical Therapist that we hoped our clients weren't going to incorporate the skills we were jointly teaching into a profession (standing, walking, and undressing).  I will frequently use the physical movements needed for dressing, and play a game using those simulated movements instead of actually taking clothes on and off.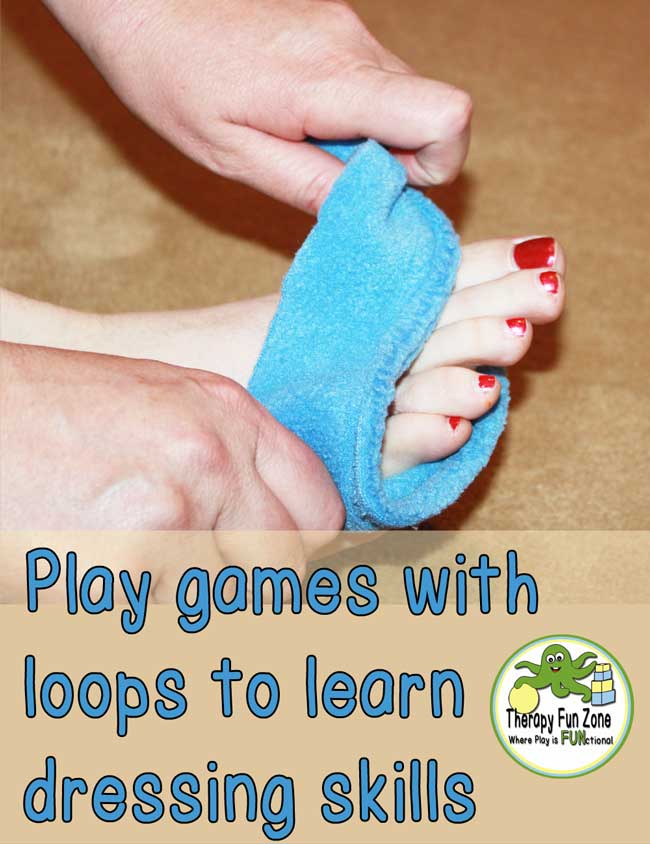 One of the earliest play activities that is a precursor to dressing skills is peek-a-boo.  You need to be able to reach your hands up to the top of your head in order to pull your shirt off of your head, and at an early age, it is fun for kids to pull a hand towel or scarf off of their head/face to play peek-a-boo.  And you thought they were just having fun learning object permanence, but no, they are learning to dress themselves.  As kids get older, they push the skill farther by putting buckets on their heads, hats on, and costume jewelry.  Those Mardi Gras beads are a therapist's best friend.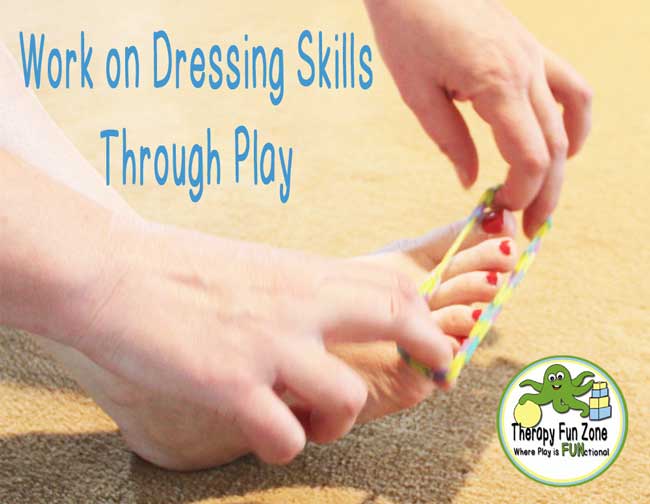 I love using play jewelry to play dressing type games (but don't tell the kids they are working on dressing).  I use jelly bracelets or loom band bracelets to put onto feet since you have to stretch them open to get them on, just like you have to stretch your socks.  You can also cut some colorful socks into strips so that you have colorful stretchy bands, and see how many bands you can get onto your foot and leg.  How high can you get them up your leg?  This is good practice for the skill of pulling pants up your leg.  You can cut a t-shirt into strips so that you have a bunch of circle bands and then put both feet in and slide them up to the waist.  You can make it into a game relay to see how many bands you can collect around your waist.  Then reverse the relay so you have to take them off one at a time.
Another fun way to work on skills is using stickers.  When kids have difficulty reaching the back of their pants to pull them up, then I like to put stickers all over the back of their pants and see if they can get them all off.  I will also use stickers on the bottom of the feet in the hard to reach places to help practice reaching those hard to reach places.  One more way to make a game out of practicing dressing type skills.  Clothespins work similarly to the stickers as you can clip them all over the clothes in hard to reach places in order to work on reaching those spots.
This post is part of the Functional Skills for Kids series. You can read all of the functions on childhood HERE.  Read all of my monthly posts in this series HERE.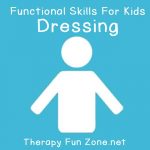 Looking for more information about working on dressing skills? Stop by to see what the other Occupational Therapists and Physical Therapists in the Focus on Function series have written.
When Do Kids Start to Dress Themselves? | Mama OT
Fine Motor Requirements for Independence with Self-Dressing  | Sugar Aunts
Gross Motor Skills and Independent Dressing | Your Therapy Source
Sensory Considerations for Dressing!  | Your Kids OT
"Get Dressed!" How to Modify Your Child's Dressing Routine  | MissJaimeOT
Teaching Kids How to Dress Themselves: Activities to extend skills | The Inspired Treehouse
Improving Following Directions with Getting Dressed | Growing Hands-On Kids
Visual Perceptual Skills in Dressing  | Kids Play Space
Work on Dressing Skills Through Play Activities  |  Therapy Fun Zone