I Love the Balanced and Barefoot Book
I was able to have a talk with Occupational Therapist Angela Hanscom, the author of Balanced and Barefoot, and the creator of the amazing TimberNook program. Her book was a refreshing read, and is inspiring me to think about how I can incorporate more nature and more natural experiences into my therapy sessions.
The TimberNook program is a program that immerses kids into nature, where they can experience all of the sensory experiences that nature has to offer along with the physical challenges and the interpersonal communication that comes along with climbing trees, building things in the woods, hunting for frogs in the pond, and scaling moss covered fallen logs.  Therapy gyms seem to be an attempt at replicating activities that are a given out in the wild, but there is a certain calming and centering effect that nature contributes to the experience that cannot be replicated in a gym.
Angela started TimberNook after some experiences she had, and felt that kids had trouble sitting in school because they needed to move and get outside more.
Running the TimberNook program inspired Angela to write the book Balanced and Barefoot in order to get the message out to everyone that kids in this era are at a deficit because they don't spend enough time playing freely outside.  Their schedules are too full and they are always being directed by adults, so they are not learning some key skills that only happen when kids are left to their own devices (without any devices).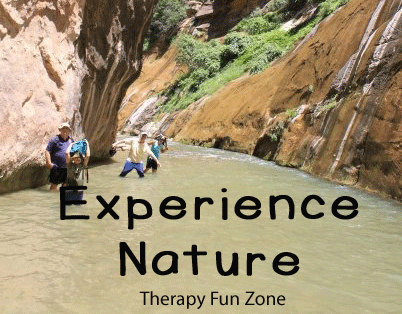 As therapists, I feel that it is our responsibility to join Angela in her quest to get kids outside and in nature more often, and every day.  I encourage you to read the book Balanced and Barefoot, and spread the word that kids need free play outside.
Angela will be sharing more on Friday, and you can listen to the full interview in the community.

Looking For More? Try these categories
The following two tabs change content below.
Tonya is a pediatric Occupational Therapist, and loves creating things to work on skills and solve problems.
Latest posts by Therapy Fun Zone (see all)