The Kaleidopaint App serves 2 purposes
I have written about coloring detailed geometric shape pages to work on hand and finger strengthening and visual perception in older students. You can buy a book of these coloring pages on Amazon, but you can also now make your own using the Kaleidopaint App. It is a free app for the iPad.
The app gives you a grid to follow as you draw your lines, and as you draw a line, the line repeats in all of the parts of the grid. It is really fun to watch how a simple line can create a complex pattern.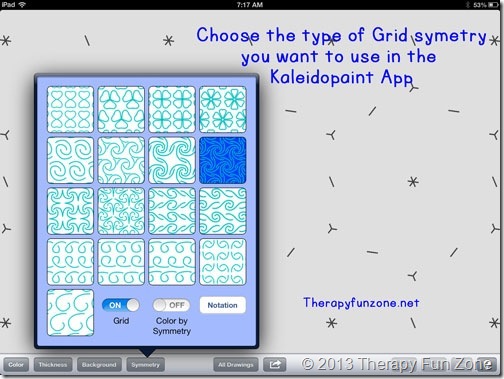 On top of being able to create your own complex coloring patterns, it is very relaxing and entertaining to watch the lines make the patterns. I find it is a good reward activity, can be used as a fine motor skill with line drawing, and could be used as a relaxing calming activity too.