I'm a married spud, I'm a married spud.
Sorry, quote from Toy Story.
Mr. Potato Head
 has many levels of therapy. It helps a child learn body parts. Visual Perception and motor control are worked on when trying to get the pieces into the holes. Strength in hands and arms are worked on when pulling his parts off. The little storage flap in the bootie requires some skill to open, and more motor control to get the pieces in and out.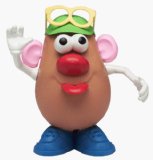 You can change the level of difficulty by either holding the potato for the client while he puts on and off the appendages, or have the client hold the potato himself while working with the pieces at the same time.
Sometimes it matters where the pieces go and other times it is fun to put them in weird places.
Skills:
Fine Motor
Upper extremity strength
Upper extremity motor control
Bimanual coordination
Visual perceptual skills

The following two tabs change content below.
Tonya is a pediatric Occupational Therapist, and loves creating things to work on skills and solve problems.
Latest posts by Therapy Fun Zone (see all)