Hammock swing for strengthening
A hammock swing is wonderful for strengthening in many different ways.  My favorite position in a hammock swing is prone with just the head and arms sticking out.  This position forces weight bearing on the arms, and works on full upper body strengthening as well as core strengthening.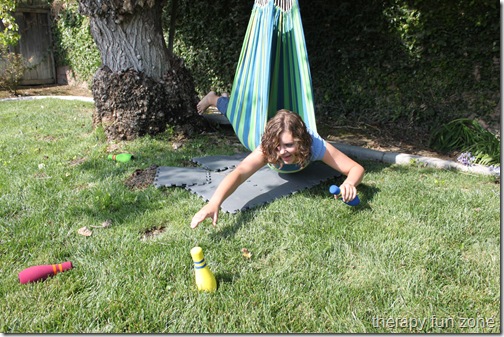 I usually place things around under the hammock, but just out of reach so that the client has to pull themselves along to reach the toys.  It is great to encourage movement, and motor coordination.  Most suspended equipment in a therapy gym has an attachment that works with a hammock swing, but when I work in kid's houses, I don't have that object.  I have used them on a swing set, attached to a wooden pergola, and these pictures are attached to a tree branch.  You need to make a secure attachment with good knots to whatever you are suspending the hammock from.  The hammock part is just a hammock.  You also need some extra rope for the attachment, and I put pads on the ground under the hammock, because you never know when a child is going to put their head down, and you want it to be on something soft.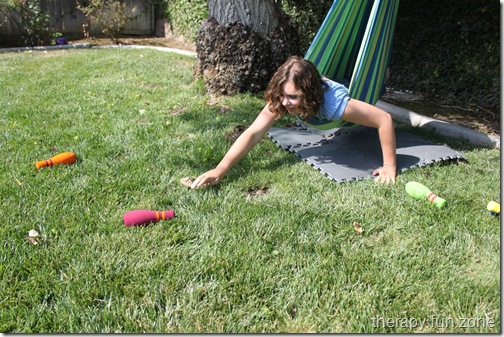 Materials:
hammock
rope
suspension device (tree limb, bracket mounted in ceiling, etc.)
Skills:
upper extremity strengthening
sensory motor
tactile sensory
core strengthening