Oral Sensory Seeking and Vibration
Most of the kids that I work with that have oral sensory problems avoid oral stimulation, and avoid food. I just started seeing a young fellow that is the opposite of what I am used to. This little guy is a sensory seeker, and he seeks oral sensation. He chews on everything, and he even uses the running vacuum to get extra vibratory sensation in his mouth. He really needs extra oral vibration. He already uses a vibrating toothbrush, but he can't take that with him everywhere.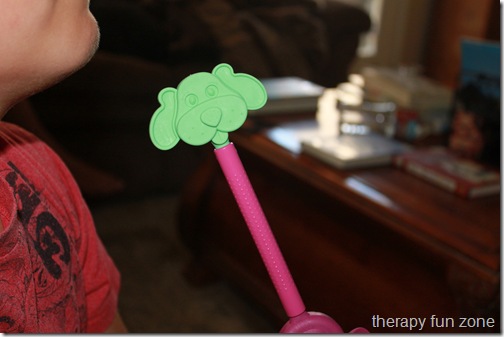 ARK DnZ-Vibe to the rescue. Ark sent me some of their products to try out, and the timing couldn't have been more perfect as I really needed a solution for this guy's sensory seeking. I tried this vibe out with him, and he loved it (of course), and the double end of the vibe is perfect with the animal heads on it, because he will chew on the whole thing if given the option. I am hoping that having this extreme vibration and oral stimulation will keep his mouth busy, and save the furniture and household appliances from getting chewed up.
I also gave him an ARK Grabber to use to chew on. This one he can carry in his pocket, or attach to a springy keychain in order to have it with him whenever he needs to chew. He was really chewing on the Grabber, so I think that it will help.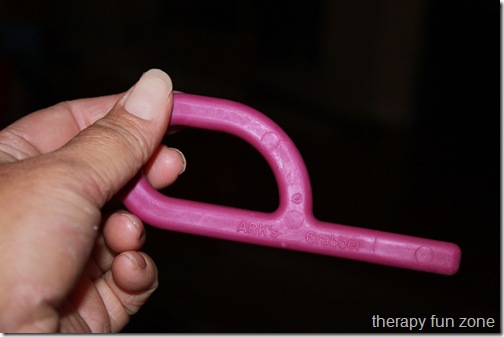 ARK also has some chewing tips for the vibe, and I may have to try those out next. This little guy is young enough that the animal heads are cool. An older child would do better with the chewing tips.
Materials:
Ark DnZ-Vibe with double sided animal heads.
Skills:
Looking For More? Try these categories
The following two tabs change content below.
Tonya is a pediatric Occupational Therapist, and loves creating things to work on skills and solve problems.
Latest posts by Therapy Fun Zone (see all)