New Writing paper, "Mud Paper" to get letters stuck in the mud
Karen over at Miss Awesomeness uses Lava Paper that she thought up and that I made for her. I have tried the Lava Paper with some of my kids as well, but many of my students had trouble with the "complex" concept of Lava. I know lava is not truly that complex, but many of my kids have autism or are not quite as high functioning as Karen's kids, and it was not a basic enough concept for them.
The other day I just darkened the bottom lines of some regular paper, and told the kids it was mud. Then I had the kids make sure that their letters got stuck in the mud, and all letters had to have their feet in the mud. One student thought that this was hilarious, and after each word he wrote, he yelled "it's stuck in the mud!". The mud concept worked so well that I came home and made some mud paper.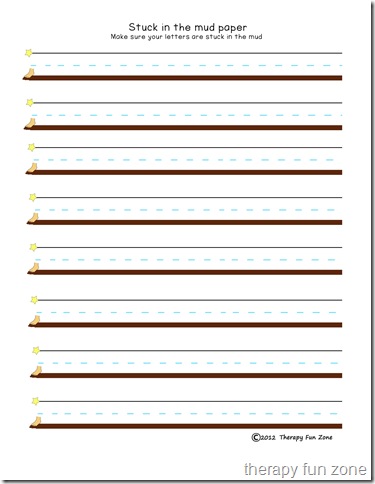 The mud paper has a bold dark brown line as the base line, and a bare foot stepping in mud at the beginning of the line. The middle dotted line is light blue to be the sky that the rest of the letter is supposed to be in, and the top line is black, and has a star next to it. The star is because the tall letters are so tall that they touch the stars. I will tell the kids also that some letters like to dig their tails down through the mud too.
I made different sizes, including Kindergarten ruled, wide ruled, and skinny (college) ruled. I have included the download of the wide ruled because I think that it is the one that I will use the most. You can get the rest at the shop.
Save
Save


The following two tabs change content below.
Tonya is a pediatric Occupational Therapist, and loves creating things to work on skills and solve problems.
Latest posts by Therapy Fun Zone (see all)