Favorite Summer Toy: Six Water Play Tools for Fine Motor Skills
A group of therapist bloggers have gotten together to share what our favorite summer toys or activities are.  This post is about my favorite summer toy, which is playing with water via squirt guns and other water tools.  In order to see all of the other favorite summer toys, you have to go to each of the other therapist's blogs.
Now here are my favorite summer toys and activities.
Summer is all about water to me, and I try to use it liberally in my summer activities. I love using squirt bottles to work fine motor skills such as hand strength, and bath squirt toys work great as well. You can also use a sponge to squeeze the water out of, which is great for working on hand strength. Another fine motor water dispenser is an eye dropper, which can really target the tip pinch if it is a small dropper. There are large droppers too that have more of a bulb on the end for a fuller hand squeeze.  Squirt guns work on finger strength, and a turkey baster targets whole hand strengthening.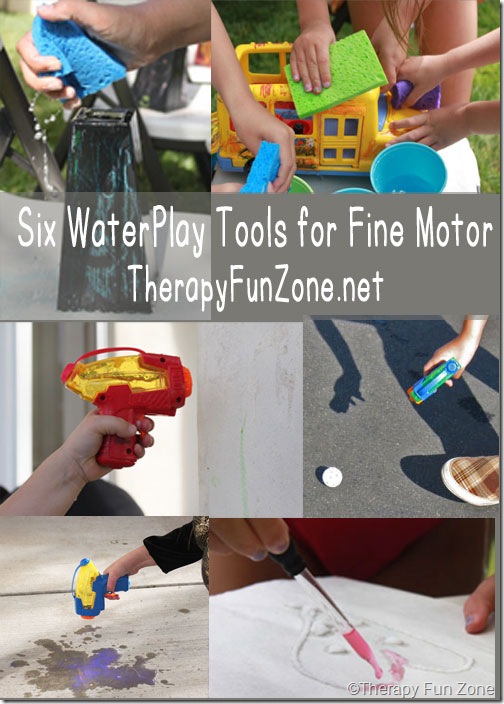 My go-to water play tools:
squirt bottle
bath/pool squirt toys
sponge
Eye Droppers
squirt guns
turkey baster
When playing with the water tools, you need to create motivation, although sometimes just the act of watching the water squeeze out is motivation enough. A good task that uses water is washing away chalk. I used chalk in a chalk "fire" activity where we drew "fire" with the chalk onto pillars and then squeezed water over them with sponges in order to wash it away. You could squirt at the chalk with a squirt bottle too, ar use a turkey baster.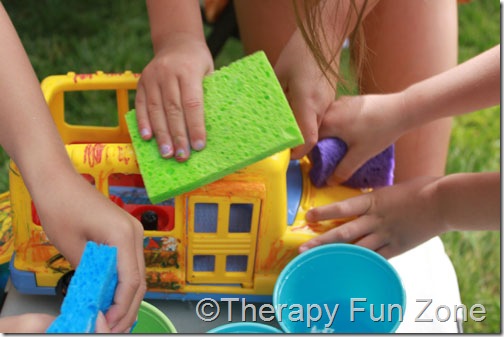 Aside from chalk, you could use foam paint on an outside glass door and squirt the paint off. Also, washable markers on a glass door can be squirted off.
One of my favorite activities to do with squirt guns is to squirt at balls. You can aim at balls to make them roll across the ground, or you can shoot at balls that are balanced on golf tees to knock them off.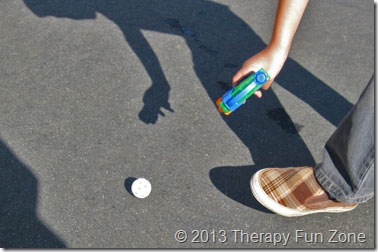 Some favorite water play activities:
squirting foam paint off a glass door or shower wall
What water squirting activity do you like to do?
Materials:
Water
Water dispenser (spray bottle, water gun, squirter, eye dropper, turkey baster, etc.)
Chalk, foam paint, washable marker on glass
Skills:
Fine motor
Hand strength
Visual motor
Now go visit the other therapy blogs and see what their favorite summer toy is.
The Inspired Treehouse  –  OT Cafe  –  Golden Reflections Blog  –  Pink Oatmeal  –  Therapy Fun Zone  –  Your Therapy Source  –  Mama OT  –  Starfish Therapies  –  Playing With Words 365  –  Playapy