Stringing cheerios onto pipe cleaners
I work with a child that needs to improve her fine motor skills, but she puts everything in her mouth. She enjoys the marble run, but I am nervous about using it with her. I decided to try stringing cheerios as a good edible fine motor activity.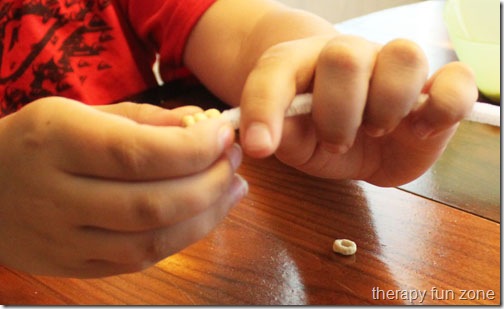 My client is not ready to string the cheerios onto a string, so we ar putting them on a pipe cleaner. Honey comb is a fun alternative with many holes to string through.
Materials:
Pipe cleaner
Cheerios (or honeycomb)
Skills:
Fine motor
Fine motor precision

The following two tabs change content below.
Tonya is a pediatric Occupational Therapist, and loves creating things to work on skills and solve problems.
Latest posts by Therapy Fun Zone (see all)