When the weather is warm, it is always fun to play in the water. Here is a fun activity that has water play, with some self-care skills and fine motor skills all mixed into one activity.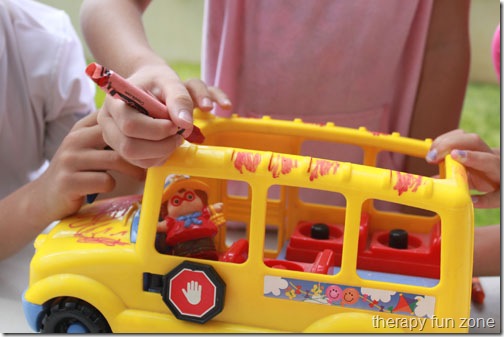 When washing your hands, you use visual perception and motor planning to see and physically scrub the dirt off of them. In order to work on this skill using a fun activity, I set up a car wash. Really, I guess I should say bus wash. I let the kids go to town coloring and dirtying up this plastic bus using washable crayons. They had a great time, probably because they were allowed to color on a toy. It's always fun to do something that is usually not allowed.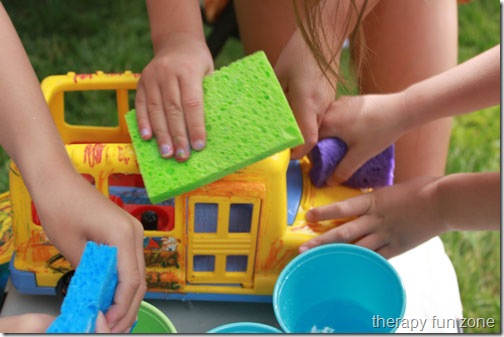 Once that bus was good and dirty, the kids got sponges and water and they scrubbed the bus clean.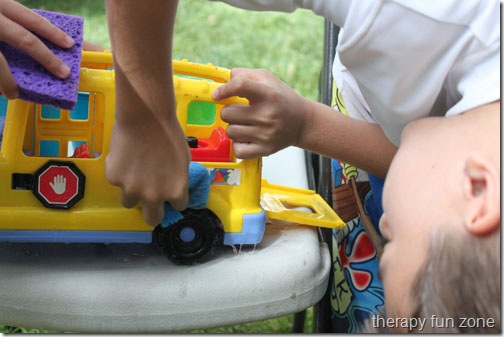 Materials:
Plastic car
Washable crayons
Sponges
Water
Sink or bucket
Skills:
ADL – Hygiene
Fine motor
Motor planning
Visual perception

The following two tabs change content below.
Tonya is a pediatric Occupational Therapist, and loves creating things to work on skills and solve problems.
Latest posts by Therapy Fun Zone (see all)