When I think of therapy activities, I keep in mind what skill I am looking to improve. When trying to challenge someone's fine motor skills, I try to come up with tiny things to hold. I figured that Q-tips were pretty tiny, so how about we do some painting with them. I made them even smaller by breaking them so that there was just a little bit of the stick to hold onto.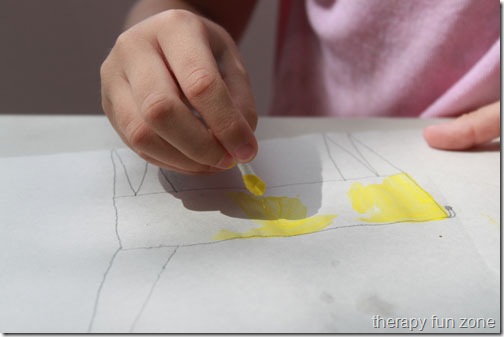 Q-tips really are a great tool for painting detailed projects. They have the right amount of absorbency, and it is easy to have a different Q-tip for each color you are using.
Using the small Q-tips really forces the use of just the finger in a tripod grasp. Using the Q-tips would work well with sidewalk chalk paint as well.
Check out the other posts about q-tip painting, including some with templates.
Materials:
Skills:
Fine motor
Handwriting
Finger strength
Save
Save