Frog clothespin animal for finger strength
I saw a picture of wooden frog pieces glued onto a clothespin on pinterest, and I thought that it was a great idea, and that I needed to make one for kids to play with when working with Clothespins and finger strengthening.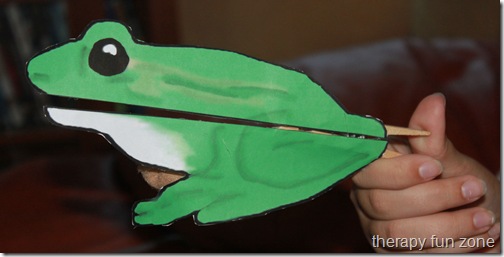 I made the frog picture in photoshop, and then cut him in half.  I then used a low temp glue gun and glued the separate halves onto the clothespin.  I then glued a piece of pipe cleaner along the edges of the part that opens to give it stability.  I will probably make another one and laminate
it before I glue it together so that it will be stronger and last longer.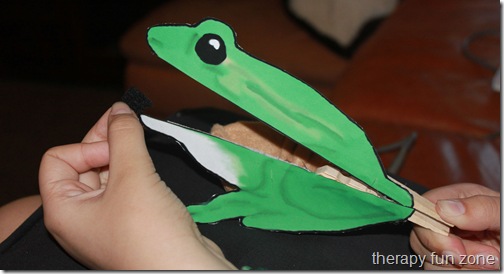 I also wanted to have a receptacle inside of the frog so that the kids could feed it and the "food" would have a place to go.  I tried gluing a silicone baking cup inside, but it wouldn't stick, so I made a little holder inside using pipe cleaner and felt.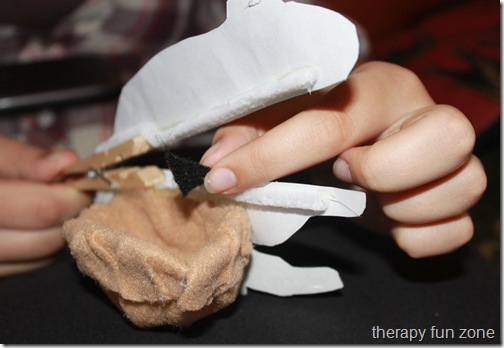 I made a circle out of the pipe cleaner, and then cut a circle of felt larger than the pipe cleaner circle.  I cut notches around the edge of the felt, and put it inside of the pipe cleaner circle.  Then I folded the edges of the felt over the outside of the pipe cleaner and glued them down with the low temp glue gun.  Once that was done, I glued it inside the frog just under the clothespin.  It worked exactly how I had hoped.
Great bimanual hand strengthening by having to open the frog's mouth by pinching the clothespin and feeding him the flies with the other hand.
Here is the pdf file for you to print of the froggy.
Materials:
Frog printable
clothespin
glue
pipe cleaner
felt
Skills:
fine motor
finger strength
bimanual