Pool Noodle Batting and Hitting Suspended Balls
Pool noodles make great bats, and have several factors that make them perfect for the job in therapy.
You can cut them to just the right length for the person using them
They are soft so if you get hit by it, it won't hurt you
They are fat, which makes it easier to hold on to for some people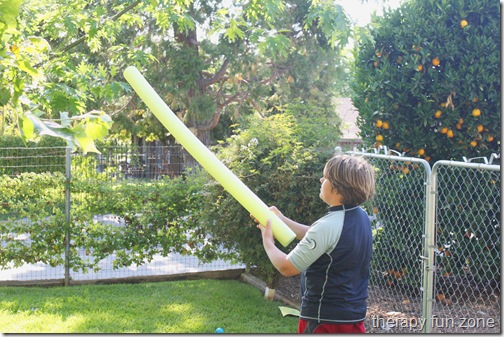 I like to use a balloon or beach ball, or even suspend a ball with a string for the student to hit. I have posted before about playing balloon volley ball, and I love to play that with all age groups. Adding a pool noodle as a bat changes the dynamics of the game and gives it a different challenge.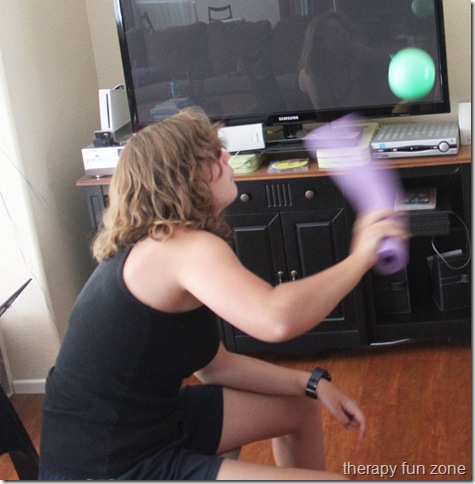 When I suspend a ball or balloon, it makes the game a little easier so that you don't have to go chasing the ball all over the room. It also keeps the ball at a certain height so that you have to achieve the desired range of motion in order to hit the ball. It is great for working on strengthening because you can place the ball at the height that you want the person to reach, and therefore you achieve consistent over head reaching.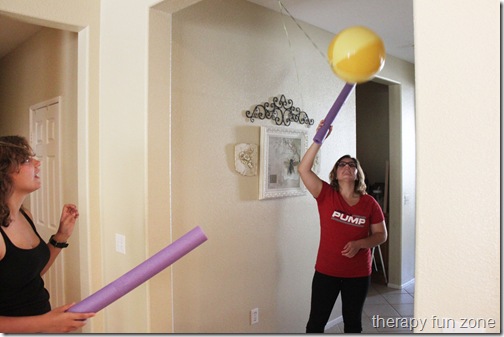 When suspending a ball, I often tie the ball to where the suspended swing usually hangs. I can also tie it to a tree branch. I didn't have either of those available for these pictures, so I used a command hook above an arch in a hallway. It worked perfectly (thanks for the suggestion Cassie), and I will be using command hooks for other suspended activities in the future. Obviously they will only hold up light things, but that is usually what I am hanging (unless I am suspending a child, but then I use a swing).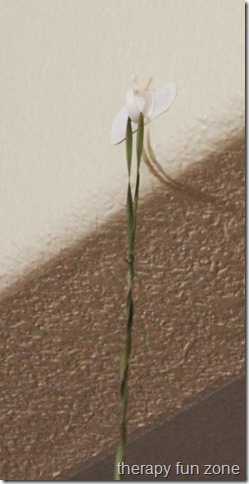 Materials:
Pool noodles
Ball or balloon
String or ribbon
Command hook
Skills:
Upper extremity strengthening
Upper extremity range of motion
Visual motor
Looking For More? Try these categories
The following two tabs change content below.
Tonya is a pediatric Occupational Therapist, and loves creating things to work on skills and solve problems.
Latest posts by Therapy Fun Zone (see all)