Spaghetti Painting for Sensory Problems
I have a few kids that I see who do not like food. I like to use food as a play tool in order to help make food their friend because they need to accept being around food, so using spaghetti noodles as a painting tool is a fun activity. Some kids love it immediately, and others need to do it a few times to even look at the spaghetti and then more times to even get close to touching it.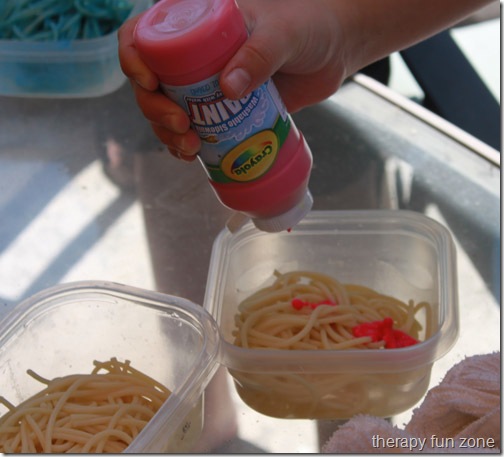 It feels squishy in your hands, and it is fun to dig your hands into the wet paint and spaghetti. I separated the spaghetti into three containers, and then used one color of sidewalk chalk paint in each container. I used the chalk paint so that we could do this outside and get messy, and so it would be super easy to clean up.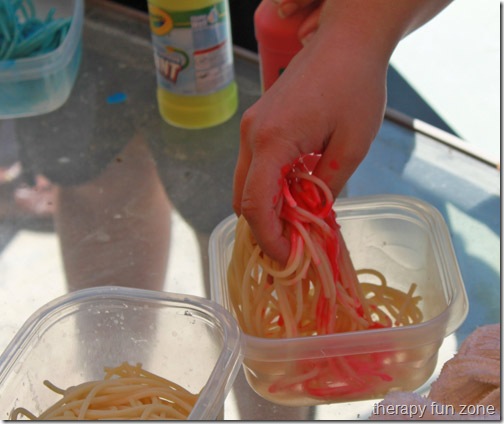 The girls in the pictures loved the feeling of the spaghetti and paint, but I have done this with some kids who would not even look at the spaghetti until the second time that we had done it, since it was just too yucky for them to think about. Keep trying though because it will take several times for the kids to see that you are not going to eat it, just play with it.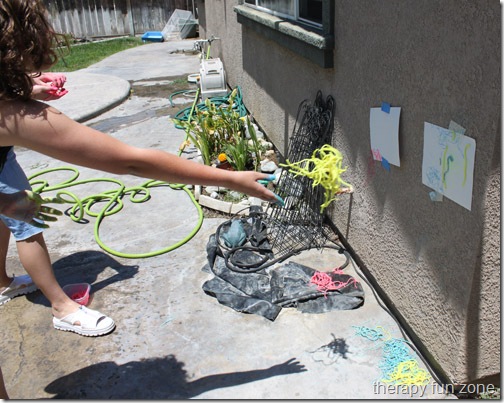 The spaghetti with paint sticks nicely to a sliding glass door, and is fun to make a mural on the door,and it cleans off really easily. In the pictures, we are throwing the spaghetti at some paper that is taped to the wall. It makes a cool picture with neat designs.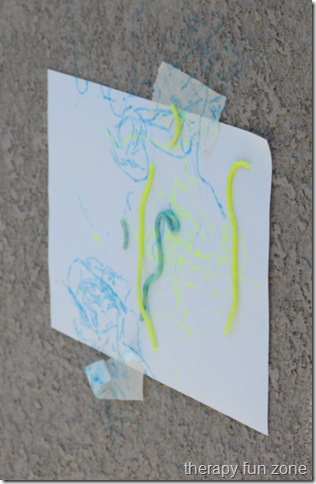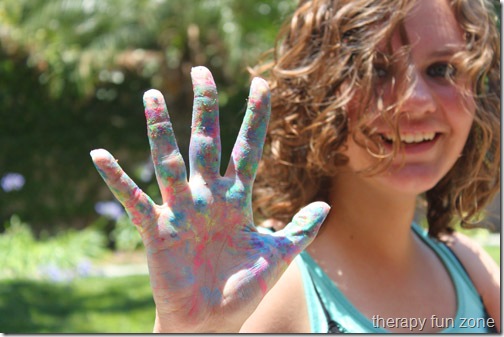 To add another sensory dimension to the activity, I have also added some essential oils to the spaghetti to give it some olfactory smell sensations.  My favorite essential oil scents to add to the spaghetti are lemon, orange, citrus fresh, peppermint, grapefruit, lime.  There are lots of others, but these are my favorite scents, and there may be a specific reason that you want to add one scent versus another.
Materials:
Cooked spaghetti
Colored sidewalk chalk paint
Paper
Containers to hold the spaghetti
Essential Oils (optional)
Skills:
Sensory
Fine motor
Sensory feeding

The following two tabs change content below.
Tonya is a pediatric Occupational Therapist, and loves creating things to work on skills and solve problems.
Latest posts by Therapy Fun Zone (see all)