I originally heard about the Multi-Matrix game when I took a class on handwriting and the instructor showed us how to play it. The game was created by a Developmental Optometrist in San Diego, and it works on visual perception and visual processing while adding other sensory motor components to increase the challenge.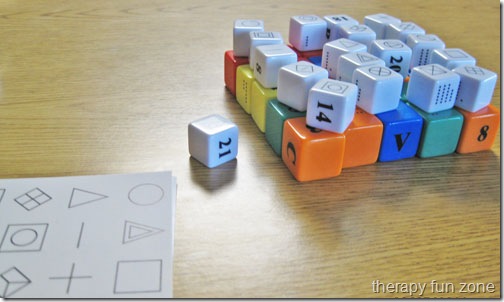 The game is made up of white cubes and larger colored cubes, and the cubes have different things on each side, such as numbers, letters, shapes/symbols, dots, and a blank side.
You stack the blocks in different configurations, depending on what you want to work on. You can do a grid, a horizontal line, a vertical line, a large circle, or random and unorganized. The configuration can work on lateral scanning across midline or focusing on close and distance.
In the basic game, you place the colored cubes down with the blank side up, and place the white cubes on top of them with the alphabet side up. There is one empty cube without a white cube on it. Then you find the cube with A facing up, and you take it and place it on the open colored cube. Then find B and place it on the newly open colored cube, and continue through the alphabet, scanning to find the right letter. You can then add more difficulty to it, such as alternating hands, and saying out loud what you are moving, and where you are moving it to.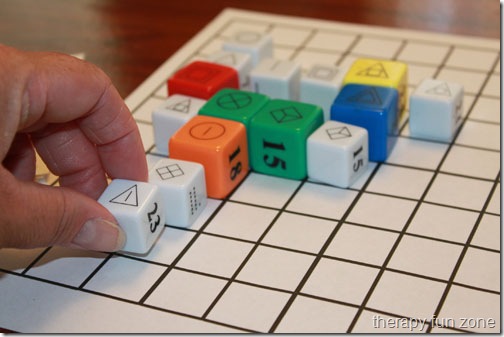 I of course couldn't just play the game as it is. I had to add my own twist. I used the shape cards, and played with two people. We had to find the right shape from the card and place it on a grid that I made in order to get 5 in a row to win. It required a lot of visual scanning, visual memory, and visual discrimination to play the game.
Fine motor skill is used when picking up the cubes, and you could add another challenge by using chopsticks or other tools to pick up the cubes.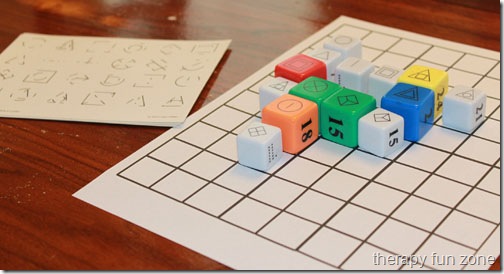 The sensory motor component
The Sensory Motor component comes in when you add extra physical components while playing the game. This game is probably not one that kids will play on their own, but it is great for therapy and to work on visual perception and visual scanning.
I was sent this game to try it out and see what I thought of it, and to see if I wanted to offer it on the Therapy Fun Zone site. I am definitely going to be using it with some of the higher level kids that I see, and will have it available for others to buy. I also took a 4 CEU class online with the game.
Materials:
Skills:
Visual perception
Fine motor
Sensory motor
Save